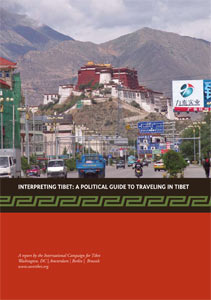 ICT launches an "alternative" travel guide to Tibet today, which describes how China is seeking to promote Tibetan culture for tourism while it continues to suppress the unique Tibetan identity. "Interpreting Tibet: A Political Guide To Traveling In Tibet" offers a perspective for the traveler who seeks a more balanced picture of their destination than China's representations.
The report is published at a time when tightened travel restrictions in Tibet counter the impression that Beijing is seeking to convey of increased openness in the run-up to the Olympics. The restrictions affecting foreigners traveling to the Tibet Autonomous Region, which appear to have serious implications for certain groups of travelers, are apparently in response to a protest by members from Students for a Free Tibet, including a Tibetan American, at Mount Chomolungma (Everest) base camp on April 25. China's reaction indicates its concern about other possible protests in the run-up to the Beijing Olympics in August 2008, and shows that it is more of a priority for Beijing to prevent dissent than to earn tourist dollars.
John Ackerly, President of the International Campaign for Tibet, said: "ICT's new report: 'Interpreting Tibet: A Political Guide To Traveling In Tibet' describes how China promotes tourism in Tibet and, at the same time, suppresses what makes Tibet unique. China wants to control how tourists experience Tibet. This alternative guide unmasks the propaganda and offers a way for tourists, and tour operators, to be aware and well-informed."
The report is available for downloading and ICT recommends that tourists read it before they leave for Tibet. Carrying a copy in a backpack or suitcase into Tibet could be regarded as a political or 'splittist' act (in other words, as an attempt to 'split' the motherland), and could therefore put local contacts at risk.
In contrast to travelers' experiences in the late 1980s in Tibet, when they directly witnessed brutal repression during the years of pro-independence protests and the imposition of martial law, tourists in Tibet today sometimes do not witness any form of overt repression or degradation of the Tibetan culture. For instance, luxury hotels are built in Tibetan style, giving the illusion of the preservation of the 'authentic' culture, and foreigners can see Tibetan devotional practice everywhere, which can give the appearance of religious freedom or that Tibetan Buddhism is thriving.
'Paradox Lost' gives a reality check on the sights of Lhasa, exploring how both China's assertions of power and Tibetan expressions of identity are revealed in the architecture of the city, as well as the reality behind Tibet's apparent economic progress. The report advises tourists how to avoid putting Tibetans, and themselves, at risk, and offers tips on how to understand the signs of religious repression, and subtle acts of dissent by Tibetans.
New travel restrictions and closure of Tibetan travel agency
While the authorities have not admitted to any change in travel regulations in the TAR, according to reports from tourists and travel agencies, it has become more difficult to obtain a legal permit for individual travelers to the TAR. The authorities now appear to be tending towards a more vigorous enforcement of the requirement to travel outside Lhasa as a group, and may also be considering requiring tourists in Lhasa to remain within their groups. It is not known if the current restrictions hide any other kind of enforcement aimed at specific groups of travelers, but it is likely that they have serious implications for certain groups of travelers, such as US or Western-based Tibetans, or Tibetans born in Tibet but now living overseas.
An official from the state-run China Travel Service in Lhasa explained the new difficulties for tourists by saying: "We can't let foreign tourists just go anywhere by themselves. In the past they could be left alone to travel independently as they wanted for a few days. Now this is not allowed any more…Management is tighter because of the Americans on Everest." (The Times, London, May 14, 2007). This refers to the base camp protest of April 25, when several members of Students for a Free Tibet raised a banner reading 'One World, One Dream, Free Tibet 2008' – a revised version of the official Beijing Olympics slogan, 'One World, One Dream'. Five Americans were detained because of the incident and later released.
News of the travel restrictions follows the closure of a local Tibetan travel agency in Lhasa on around May 17 or 18 apparently as a result of the visit of two journalists to Tibet. The reporters were later called into the Foreign Ministry and accused of producing articles that were deemed 'unacceptable'. During his Tibet trip, one of the journalists, Tim Johnson of the US newspaper chain McClatchy, reported in his blog that people he had talked to were picked up for questioning, and one Tibetan was given "an extraordinary fine on trumped up charges". The incident highlights the risks posed to local people's livelihoods of travel of foreign visitors within the region, and a more aggressive response from the authorities to correspondents' reporting from the area.
Tim Johnson and Harald Maass, of the German daily Frankfurter Rundschau, traveled to Tibet on tourist permits to avoid restrictions placed on press traveling in the region. While Beijing had indicated that during the runup to the Olympics journalists would be allowed to travel freely throughout China, this was rescinded with regard to Tibet. Tim Johnson had requested formal approval to go to Tibet from a Foreign Ministry official, and when there was no response, traveled as a tourist on the train. He changed to a local travel agency while in Lhasa because of his frustration with service at the main Chinese-run travel service. A Chinese official at the agency had apparently lectured Johnson on not talking to any Tibetans because of his status as a 'tourist' and blocked his attempts to travel within the region.
In a later blog on his newspaper's website, Tim Johnson wrote: "The pre-Olympics easing of restrictions does not affect the rule that requires all foreigners (not just foreign journalists) to get permits to travel there. This is a very major barrier to entry.".
On their return from Tibet, both journalists, were summoned by the Chinese Foreign Ministry and their reporting criticized. Zhang Lizhong, a division director at the Foreign Ministry's information department, apparently told the reporters that they had distorted the facts and produced articles that were deemed 'unacceptable' (Reporters without Borders, May 25, 2007). One of the stories Johnson filed, 'China orders resettlement of thousands of Tibetans' reported on the forced relocation of Tibetans.
China is particularly sensitive to negative media coverage on Tibet in the buildup to the Olympic Games, because the recently announced route for the Olympic flame includes the possibility of carrying the torch up Mount Chomolungma (Everest) in spring 2008. A team of mountaineers recently carried out a trial of the Olympic flame ceremony on Everest and were successful in lighting approximately half of the torches in a test run. The Olympic Torch relay to Beijing is scheduled to be the longest torch route in history, covering five continents in 130 days.