Tibet Update – April 20, 2018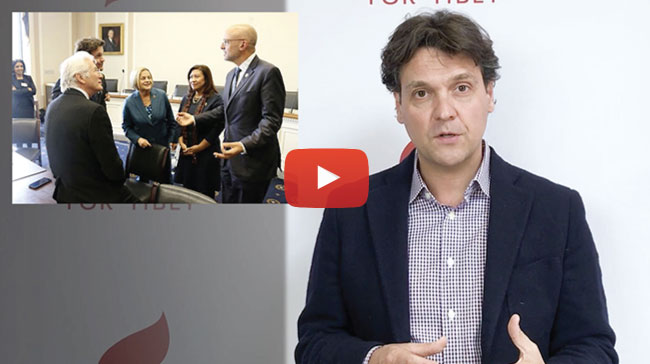 A video message to ICT members from ICT's President Matteo Mecacci
—
In this update specifically for ICT Members, Matteo shares insights from his trip accompanying a US Congressional Delegation to Dharamsala, India, which included an audience with His Holiness the Dalai Lama, as well as updates on ICT's recent efforts in support of Tibet.
---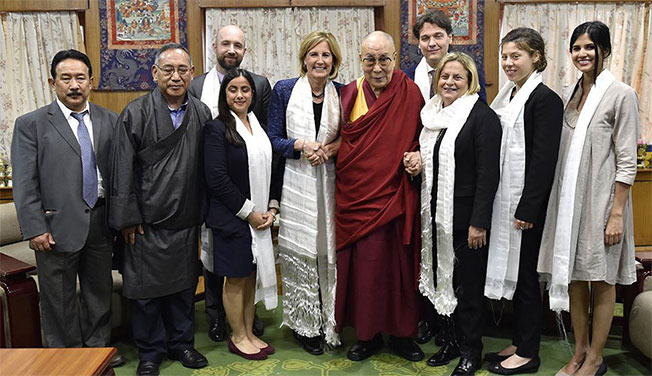 Congressional Delegation visits Dalai Lama and Tibetan leadership
—
The Dalai Lama welcomed a Congressional Delegation composed of Rep. Ileana Ros-Lehtinen (R-FL) and Rep. Claudia Tenney (R-NY), and thanked the United States government for their decades-long support for the Tibetan cause. This support, he added, provides inspiration not only to the Tibetan people, but also for communities that are battling oppression all around the world. ICT President Matteo Mecacci accompanied the delegation on its trip to Dharamsala, India.
Following the meeting, Representative Ros-Lehtinen expressed her feelings in a tweet: "Blessed to meet with His Holiness the Dalai Lama at his home in Dharamsala. It was great to listen to his wisdom, knowledge and compassion. I reaffirmed my support and that of the US Congress for the people of Tibet. Beijing should listen to him too!"
---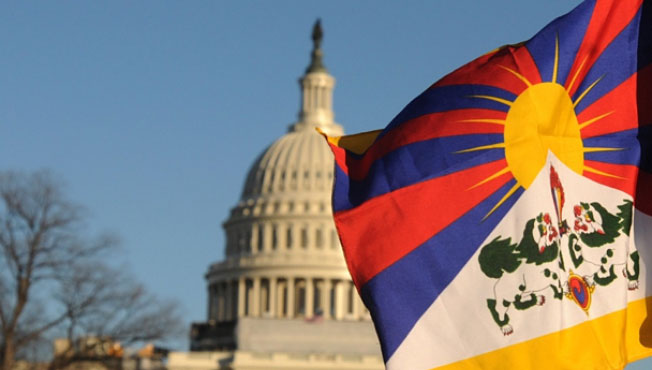 US Congress confirms support for Tibet programs in 2018 budget
—
The United States Congress continued its steady support for Tibet through the provision of approximately $20 million for Tibet programs in the Consolidated Appropriations Act for Fiscal Year 2018.
"Through this legislation the United States Congress once again confirms its decades-long support for Tibetans' efforts to preserve their culture and identity," said ICT President Matteo Mecacci. He added, "While these programs are but a minuscule part of the overall foreign aid budget, this investment yields big dividends for Tibetans and their efforts to preserve their culture and identity."
---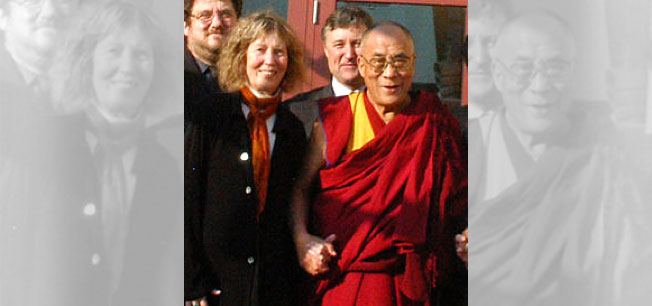 Grace Spring, long-time activist for Tibet, passes away
—
Grace Spring, artist, long-time Tibet supporter and a Board member of the International Campaign for Tibet passed away in Middlebury, VT, on March 29, 2018. She had Alzheimer's.
In a message of condolence, the Board of Directors and staff of the International Campaign for Tibet expressed deep sadness and sent their thoughts and prayers to her family. Board Vice Chairman Gare Smith said, "Grace was a steadfast, loyal, and creative supporter of the cause and her spirit will be missed."
---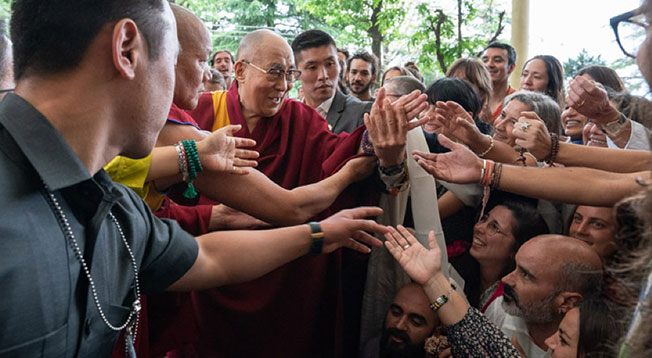 Dalai Lama urges people to counter negative emotions during meetings with visitors from around the world
—
Greeting more than 1500 visitors from 68 countries who had gathered in the courtyard of Thekchen Chöling in Dharamsala, the Dalai Lama urged listeners to transform their minds:
"Brothers and sisters, please pay more attention to your inner world, learn to counter your negative emotions and transform your mind. When one individual has developed peace of mind and shares what they've learned with others it has an impact. You might look at the problems in the world and think that there's not much you can do about them. Remind yourselves that individuals can make a difference. Cultivating positive qualities in day to day life can create the conditions for humanity to live more peacefully. This is a practical approach."
---
Tibetan writer Shokjang released upon completion of prison sentence
—
Shokjang, a popular Tibetan intellectual, blogger, and writer, has been released after spending three years in prison linked to his writings. According to Tibetan sources, upon the end of his sentence, he returned to his hometown of Gangya village in the Amdo region of Tibet. Radio Free Asia reported that Tibetans "from many different areas" came to welcome him home.
The International Campaign for Tibet and other organizations around the world have highlighted Shokjang's case and called for his release since news of his detention became public, and will continue to stress the importance of his safety now that he has been released.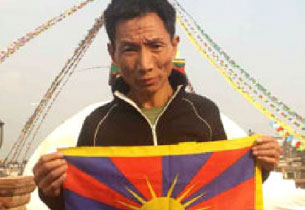 Photo with Tibetan flag led to Tibetan activist's 10-day detention in Nepal
—
A Tibetan activist in Nepal was detained for nearly 10 days by Nepalese police and threatened with deportation after he posted a picture of himself with a Tibetan flag on Facebook. Adak, who is in his early forties, said that he was slapped and kicked in the process but was not further beaten in custody. He said that police threatened to deport him to Tibet.
Adak was held from March 14 to March 22, when he was released after the Nepalese human rights organization, HURON, intervened on his behalf.
---
Chinese police offer cash rewards for tips on 'disloyal' behavior in Tibet
—
Radio Free Asia reports that authorities in the Nagchu region of Tibet promised to reward Tibetans for informing on each other:
The March 13 document, a copy of which was obtained by RFA's Tibetan Service, offers amounts up to 100,000 yuan (U.S. $15,856) for information on the activities of what it calls criminal gangs, a term loosely defined to include persons or organizations advocating "separatism," a charge often leveled against Tibetans calling for greater cultural or religious rights.
…
The 22-point notice also criminalizes persons urging the protection of Tibetan culture and use of the Tibetan language, calling such efforts "reactionary and narrowly nationalistic," and warns against contacts with the Dalai Lama and "foreign hostile forces" supposedly loyal to him.
EVENTS
Tonight! Wisdom and Compassion for Challenging Times
A Conversation with His Holiness the Sakya Trichen and Richard Gere
—
When: Friday, April 20 | 6:30pm-8pm
Where: The Community Church of New York
40 East 35th Street
(between Park and Madison Ave)
Tickets: For tickets, please visit: http://tibetfund.org/
Call Yangzom Shawa at 212-213-5011 or Email: [email protected]
Organized by The Tibet Fund

Film Screening: The most sacred teaching…
KaLaChaKra
THE ENLIGHTENMENT
—
KaLaChaKra is being screened in partnership with Alliance Française of Greenwich as part of a film festival celebrating French cinema. Over 20 films will be featured over five days, all with English subtitles.
The screening will be followed by a Q&A with Director Natalie Fuchs, who will be joined by ICT's Matteo Mecacci and Tencho Gyatso.
When: Sunday, April 29 | 9:30am
Where: Bow Tie Criterion Cinemas – Greenwich, CT
Tickets & Schedule: Please visit:
http://focusonfrenchcinema.com/
Purchase early on-line | Seating limitied
$15 | $10 under 21 years of age
SUPPORT ICT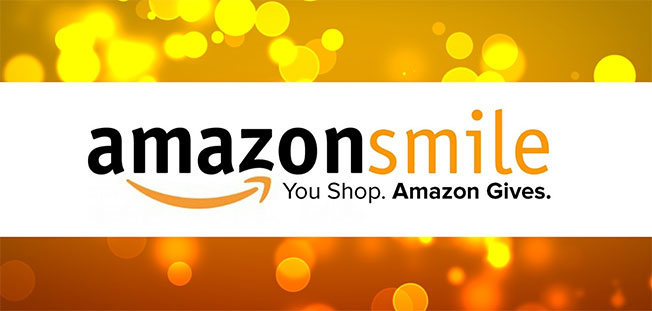 Support ICT While You Shop with AmazonSmile
—
Through the AmazonSmile Program, Amazon will make a donation for the value of .5% of your qualifying Amazon purchases to ICT! All you have to do is designate ICT as your charity of choice and be sure to use smile.amazon.com every time you shop with Amazon.
These small donations add up to significant funds for ICT and there is no cost to participate!