Tibet Update – January 12, 2018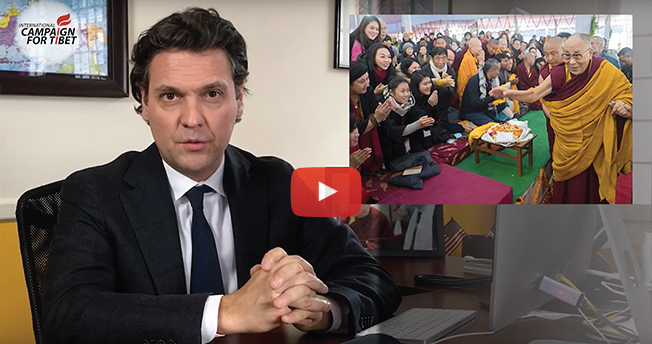 A video message to ICT members from President Matteo Mecacci
–
WATCH ICT President Matteo Mecacci for the latest news on Tibet!
---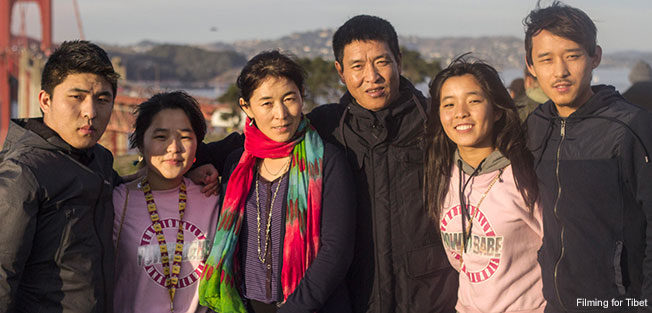 International Campaign for Tibet welcomes former political prisoner Dhondup Wangchen to freedom and safety
–
On December 25, 2017 the Tibetan filmmaker and former political prisoner Dhondup Wangchen was finally able to leave his homeland and reunite with his wife, Lhamo Tso, and their children in the United States. Despite having completed his prison sentence, Dhondup continued to be limited in his freedom of movement, but was finally able to overcome those challenges, leave Tibet, and pursue his deeply-held desire to reunite with his family.
The Swiss-based organization "Filming for Tibet" quoted Dhondup as saying: "After many years, this is the first time I'm enjoying the feeling of safety and freedom. I would like to thank everyone who made it possible for me to hold my wife and children in my arms again. However, I also feel the pain of having left behind my country, Tibet." Lhamo Tso, speaking to Radio Free Asia, said, "I feel that my family's wishes have been fulfilled, and I want to say that I have never felt happier than I do today."
---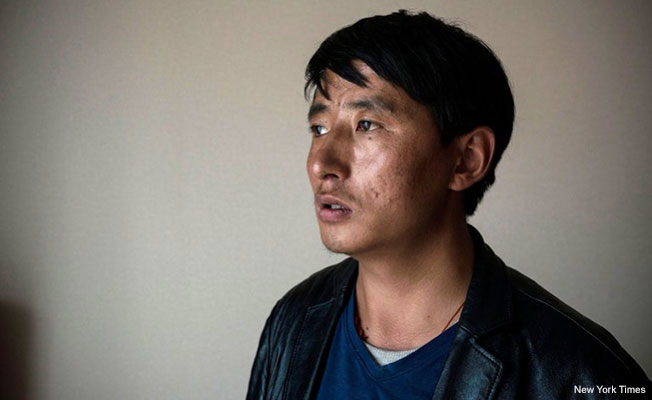 Trial of Tashi Wangchuk ends without known verdict
–
The January 4 trial of Tibetan language advocate Tashi Wangchuk, who appeared in a New York Times video documentary, received global attention as he and his Chinese lawyer refuted charges of 'separatism.' In an indication of international interest in his case, China-based diplomats from the United States, Germany, Britain, Canada and the European Union went to Yushu, although Chinese authorities did not permit them to observe the proceedings of the trial.
In unprecedented scenes in the courtroom, the prosecution aired the New York Times video, in which Tashi Wangchuk is seen traveling to Beijing to present an appeal about the rights of Tibetans to speak and learn their own language. Tashi Wangchuk and his lawyer pleaded not guilty, and no verdict has been returned.
---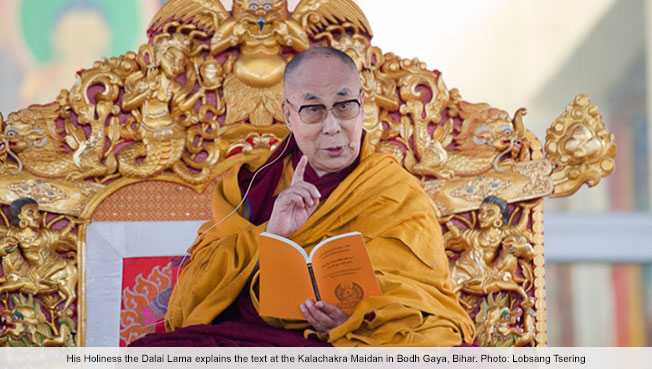 Massive turnout for Dalai Lama's teachings in Bodh Gaya
–
More than 50,000 people gathered in Bodh Gaya, India, to hear teachings delivered by His Holiness the Dalai Lama on January 5. Speaking on religious harmony, His Holiness told the crowd:
"The various religious traditions have long flourished in India and lived alongside one another in harmony. A secular view according equal regard to all faiths prevails here. We must preserve it. Meanwhile, I am doing my best to revive awareness of ancient Indian knowledge in this country. However, in the long run, the most important thing is to be a good human being."
---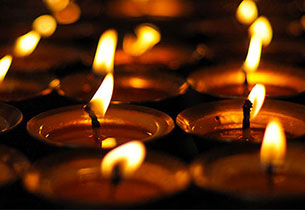 Young Tibetan man dies after self-immolation in Ngaba
–
A young Tibetan man called Konpe set fire to himself on December 23, 2017 and died in Ngaba, Tibet, close to the site of the first self-immolation in Tibet eight years ago. In a harrowing video circulating online, a woman can be heard calling out, "Gyalwa Tenzin Gyatso [the Dalai Lama], grace us with your compassionate gaze."
Konpe, who was aged around 30, was immediately taken away by the police. By the morning of December 24 he had died. On December 24 and 25, all the restaurants and shops in Ngaba county town remained closed out of sympathy and solidarity with his family members. Konpe was the 152nd Tibetan to set himself on fire in Tibet since 2009.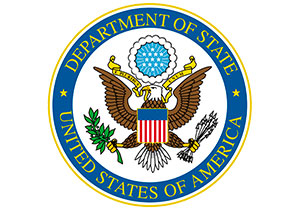 US State Department lists China as 'Country of Particular Concern' for religious freedom
–
In a statement on January 4, State Department Spokesperson Heather Nauert announced that China was among the ten countries designated as having Particular Concern status this year under the International Religious Freedom Act of 1998.
Citing their eligibility for this status thanks to "systematic, ongoing, and egregious violations of religious freedom," the State Department noted: "The protection of religious freedom is vital to peace, stability, and prosperity. These designations are aimed at improving the respect for religious freedom in these countries."
---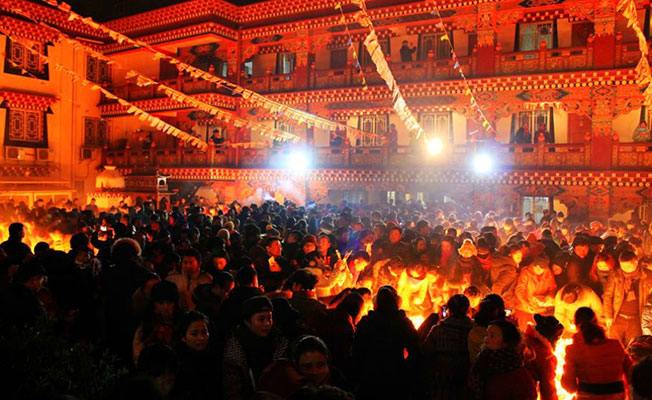 Tibetans observe major Buddhist festival despite intimidating presence of Chinese troops
–
Despite intense security with massed ranks of armed paramilitary forces, Tibetans gathered in large numbers last month across Tibet to mark an important Buddhist festival, Ganden Ngachoe, which marks the death anniversary of a prominent Tibetan Buddhist Master Tsongkhapa. The gatherings for the festival, including at monasteries in eastern Tibet that have been subject to heavy repression, are consistent with a pattern of large numbers of Tibetans marking prayer festivals at religious sites over the last few years despite an intimidating security presence and increasingly pervasive 'grass roots' restrictions and surveillance.
SUPPORT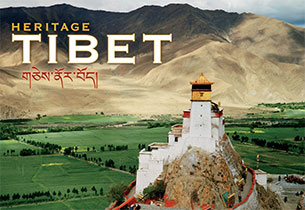 ICT's 2018 Calendar- a very limited number remain!
–
We still have a handful of the Heritage Tibet 2018 wall calendars- get yours today! The calendar features twelve beautiful photographs of sites that hold a special significance and connection to the history and people of Tibet.
Each purchase helps supports ICT's work to promote human rights and democratic freedoms for the people of Tibet and helps build awareness about Tibet during this crucial period in the country's history. The calendar makes a great gift for friends, family…or yourself!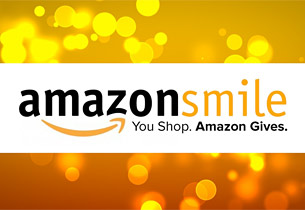 Support ICT While You Shop with AmazonSmile
–
Through the AmazonSmile Program, Amazon will make a donation for the value of .5% of your qualifying Amazon purchases to ICT! All you have to do is designate ICT as your charity of choice and be sure to use smile.amazon.com every time you shop with Amazon.
These small donations add up to significant funds for ICT and there is no cost to participate!