Tibet Update – January 25, 2019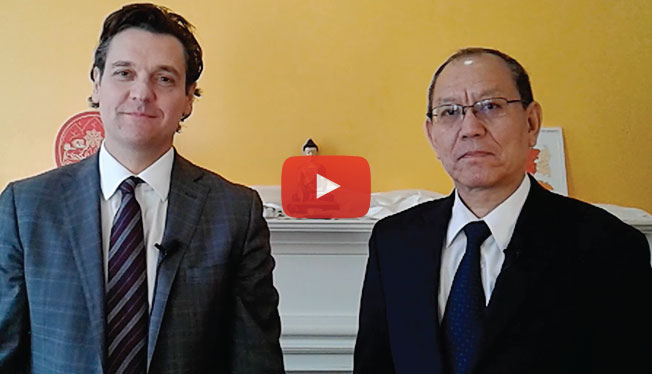 A video message to ICT members from ICT's President Matteo Mecacci and Vice President Bhuchung Tsering
—
In this update specifically for ICT Members, Matteo and Bhuchung share updates on ICT's recent efforts, including passage of the Reciprocal Access to Tibet Act!
---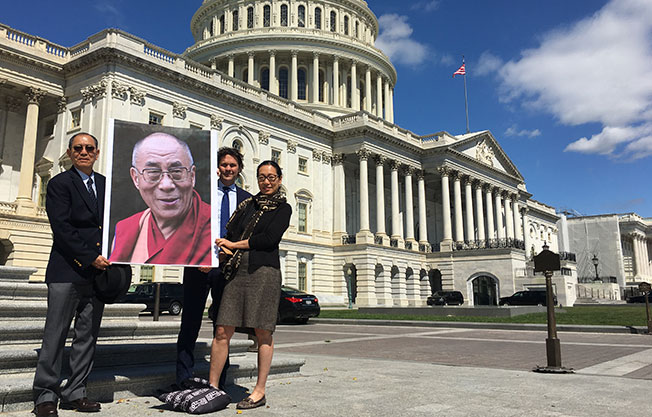 As Reciprocal Access bill becomes law, Chinese response signals its fear of US support for Tibet
—
The Reciprocal Access to Tibet Act is now law, signifying a more vigorous interest by the United States in Tibet. Following unanimous passage by both the House and the Senate, President Donald Trump signed it on December 19, 2018.
"This is truly a turning point for Americans, Tibetans and all who care about equality, justice and human rights," said ICT President Matteo Mecacci. "By passing this impactful law, the US has blazed a path for other countries to follow and let the Chinese government know that it will face real consequences for its discrimination against the Tibetan people."
China showed it was rattled a few days later, with the launch of confused and ill-informed propaganda attacks on the Dalai Lama. Foreign Ministry spokesperson Hua Chunying said that China "resolutely opposed" the law, which she said, "sent seriously wrong signals to Tibetan separatist elements," while Chinese state media editorials described the Dalai Lama as "the root cause of social unrest in Tibet."
---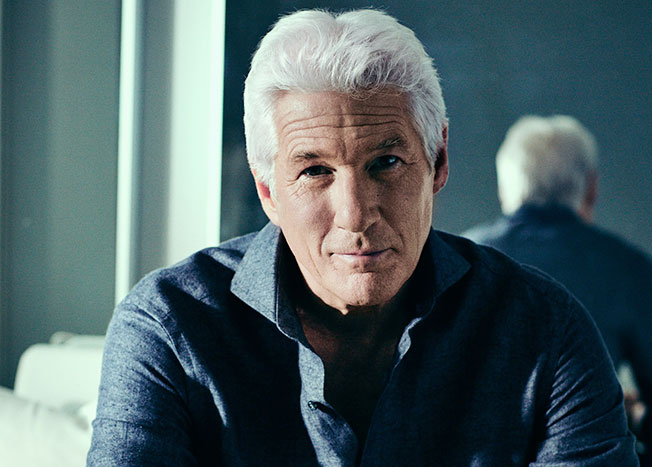 A message from Richard Gere to ICT Supporters (Photo: Diego Uchitel)
Personal thanks from ICT Chairman Richard Gere
—
"As Chairman of your International Campaign for Tibet, it gives me great pleasure to share with you the good news of our most extraordinary recent success.
Against huge obstacles, including a formidable Chinese lobbying effort, a transitional Congress, and a Washington that continues to be divided, the Reciprocal Access to Tibet Act was passed unanimously in the House and the Senate, and was signed into law by President Trump on December 19th, 2018.
It's your support over these many years that made it possible…"
---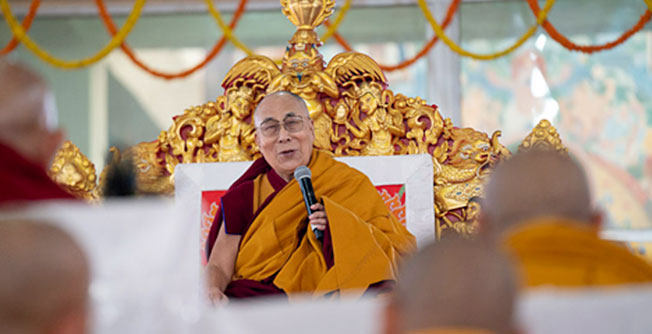 The Dalai Lama addresses the crowd during the Long Life Ceremony. (Photo: Lobsang Tsering)
The Dalai Lama receives long-life offering in India
—
The Dalai Lama's pilgrimage to Bodhgaya, India, ended with a long-life offering ceremony conducted by a number of prominent Tibetan lamas and attended by Lobsang Sangay, President of the Central Tibetan Administration. Speaking during the ceremony, the Dalai Lama remarked on Tibet's special relationship with India:
"I sometimes tease Indian friends that their god Shiva's permanent residence on Mount Kailash is located in Tibet, so he's one of us, and the River Ganges, so holy to Indians, rises in Tibet. At the same time, Tibetans follow Buddha Shakyamuni, the Great Sage, who was an Indian. What this indicates is the longstanding special connection between Indians and Tibetans."
---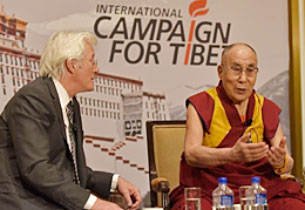 The Dalai Lama with Richard Gere at an ICT event.

Americans rank Dalai Lama among most admired men in the world
—
The Dalai Lama says Americans love Tibet, and now a new survey shows they feel pretty good about him, too. The Tibetan spiritual leader is eighth on Gallup's 2018 Most Admired Man list, marking his ninth appearance in the top 10.
As a leader who for decades has advocated a peaceful solution to the Tibetan crisis—earning the Nobel Peace Prize in 1989—and as an eloquent voice of compassion and tolerance across religions and cultures, the Dalai Lama is often voted as one of the most respected figures around the globe.
Rowell Fund for Tibet Announces 2019 Grantees
—
The Board of Advisors of the Rowell Fund for Tibet has selected five Tibetan grantees for financial support totaling $34,469 for 2019. The winners were chosen from 26 project proposals and these will be carried out in the Tibetan community in India and other countries.
John Ackerly, a member of the Rowell Fund for Tibet Board of Advisors, said: "We want to congratulate the grant recipients this year. They carry on the spirit of adventure, social activism and social service that Galen and Barbara Rowell lived by." For more details on the winning grantees, see our report.
---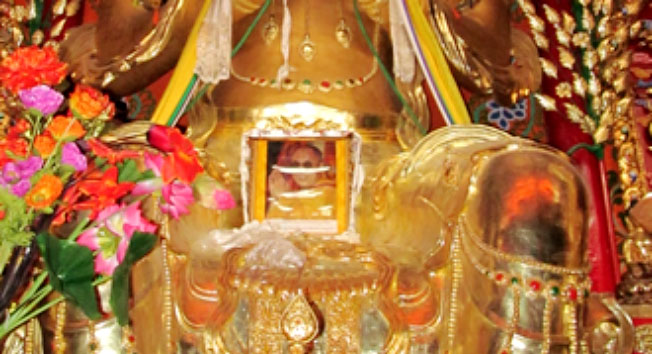 An image of the Dalai Lama in a monastery in Tibet.
Tibetans ordered to prostrate and make offerings to pictures of Chinese President Xi Jinping
—
Tibetans in the Serthar area have been ordered to remove images of the Dalai Lama from their homes and to destroy their altars. Some families are even being compelled to display images of China's leader Xi Jinping in their homes, and to prostrate and make offerings. Another source told the International Campaign for Tibet that new housing provided for Tibetans relocated in settlements in Kham were already equipped with small altars – not with Buddhist icons, but with images of Chinese Party leaders.
Yet another Tibetan source told the International Campaign for Tibet that some poor families display images of Chinese Party leaders in their homes for fear of having their subsidies cut if they do not. The same source, who has travelled widely in eastern Tibet, said that monasteries and households do still display images of the Dalai Lama, despite the dangers.
---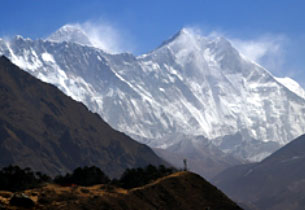 Alignment of Xinjiang, Tibet security forces underline China's lockdown policies for Tibetans and Uyghurs
—
There is growing evidence that military and security officials in Xinjiang (known to Uyghurs as East Turkestan) are collaborating more closely with their counterparts in the border areas of Tibet and elsewhere, reflecting the Chinese leadership's alignment of Tibet and Xinjiang and the importance of both regions to the Chinese government in fulfilling its strategic and economic objectives. This cooperation in the imposition of hyper-securitization and militarization is consistent with a harsher, more coercive policy approach toward "ethnic minorities," which has been particularly evident in Xinjiang with the imprisonment of around a million Uyghurs in internment camps.
The current Chinese Communist Party secretary of Xinjiang, Chen Quanguo, who served in the Tibet Autonomous Region from 2011 to 2016, developed a system firstly in Tibet and now in Xinjiang that combines coercive securitization and militarization with efforts to accelerate political and cultural transformation.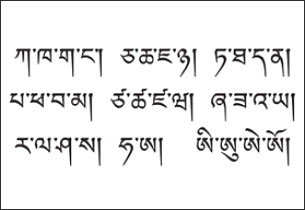 Tibet Minzu University ends Tibetan-language instruction
—
Tibet Minzu University, China's oldest university for Tibetan students, will no longer teach classes in Tibetan. According to a report from Radio Free Asia:
"Eleven areas of specialization are taught at the university, but all these courses are taught only in Chinese, which is a problem for us Tibetan students," RFA's source said, speaking on condition of anonymity. "Currently there is only one Tibetan language class offered as a second language, and one scholarship offered for Tibetan studies in the whole school," the source said.
Although Tibet Minzu University was established at first as a school for Tibetan students, "there is an acute lack here of use of the Tibetan language," a second source at the school said, also speaking on condition he not be named.
EVENTS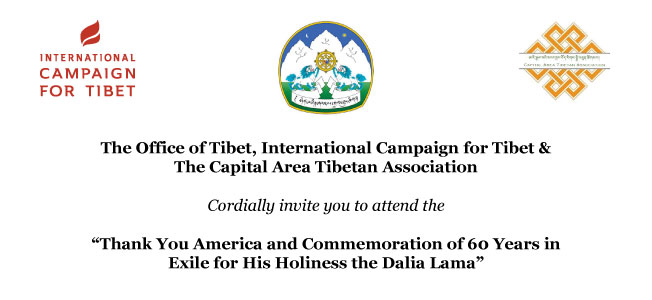 The Office of Tibet, International Campaign for Tibet & The Capital Area Tibetan Association Cordially invite you to attend
—
WHEN: Tuesday, February 12 from 5:00pm to 7:00pm
WHERE: Room no. HC-5, The Capitol Building – First St NE, Washington, D.C. 20515
Program:
Video Message from His Holiness the Dalai Lama
Expression of Gratitude
Remarks, including from Members of the Congress and the Administration
Cultural performance
Light refreshments
Please RSVP for this free event here
---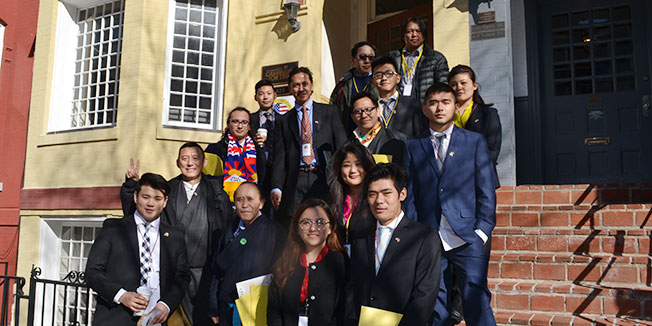 Tibet Lobby Day 2018
—
Save the date!
The eleventh annual Tibet Lobby Day will take place on March 24, 25, and 26 in Washington, DC. This is a vital opportunity for us to build on the successful passage of the Reciprocal Access to Tibet Act, so keep an eye out for more details soon.
BLOG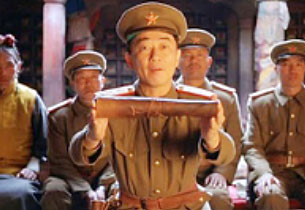 Chinese troops in the 1997 movie "Kundun," directed by Martin Scorsese.
Lights, camera, retraction: How China cut Tibet out of movies
By: Ashwin Verghese
—
"You're not going to see something that's like 'Seven Years in Tibet' anymore," says Larry Shinagawa, professor at Hawaii Tokai International College, in a recent New York Times piece titled "How China Is Rewriting Its Own Script."
That's cause for concern, because when I was growing up, movies like "Seven Years in Tibet" and "Kundun," both of which opened in 1997, helped introduce me—and surely many Americans in my generation—to the Tibetan issue. If such films are no longer made, how will kids today discover this important topic?

Rinpoche with Envoy Kelsang Gyaltsen and I.
Kasur Lodi Gyari and what I learnt from him
By: Bhuchung K. Tsering
—
We are in the 49th day period after the passing away of Kasur Lodi G. Gyari, or as he is universally known to the Tibetan-speaking world (as well as to Himalayan community), Gyari Rinpoche. Rinpoche is a title with which we refer to incarnated individuals, and he was recognized as one at an early age, while in Tibet.
The 49th day after death is an important landmark in Buddhism. In the broader context of the theory of the transmigration of consciousness, it takes at least 49 days after death for the consciousness to proceed on the path of rebirth.
SUPPORT TIBET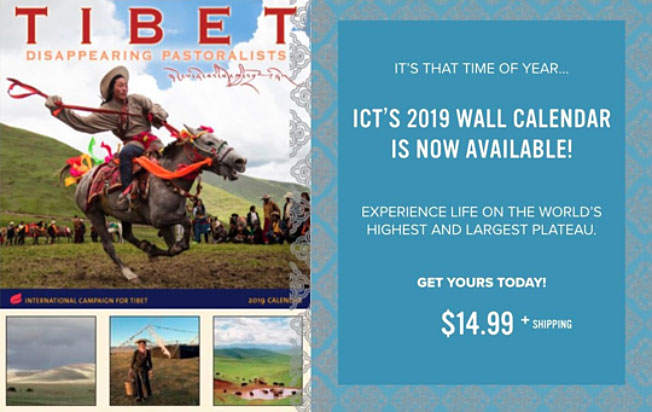 ICT's 2019 Calendar – Get it while you still can!
—
Experience life on the world's highest and largest plateau with the Disappearing Pastoralists wall calendar. For centuries Tibetan nomads have lived a balanced way of life while protecting this vast landscape and its wildlife, ecosystem, and water resources. But this peaceful existence is endangered, primarily due to China's policies that are devastating the land and its people. These extraordinary images capture the heart of this vibrant culture and remind of our connection to the earth and our responsibility to care for it.
ICT's annual wall calendar often sells out, so pick one up today! Also makes a great gift!

---
Support ICT While You Shop with AmazonSmile
—
Through the AmazonSmile Program, Amazon will make a donation for the value of .5% of your qualifying Amazon purchases to ICT! All you have to do is designate ICT as your charity of choice and be sure to use smile.amazon.com every time you shop with Amazon.
These small donations add up to significant funds for ICT and there is no cost to participate!
Through January 31, 2019, AmazonSmile will donate 15% the purchase price of new print magazine subscriptions. Visit https://smile.amazon.com/b?node=18541223011 for details.