Tibet Update – July 13, 2018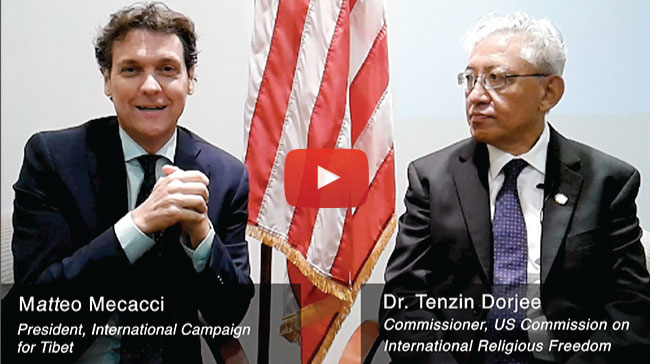 A video message to ICT members from ICT's President Matteo Mecacci
—
In this update specifically for ICT Members, President Matteo Mecacci speaks with Dr. Tenzin Dorjee, who was unanimous elected as Chair of the bipartisan US Commission on International Religious Freedom on June 12, 2018.
---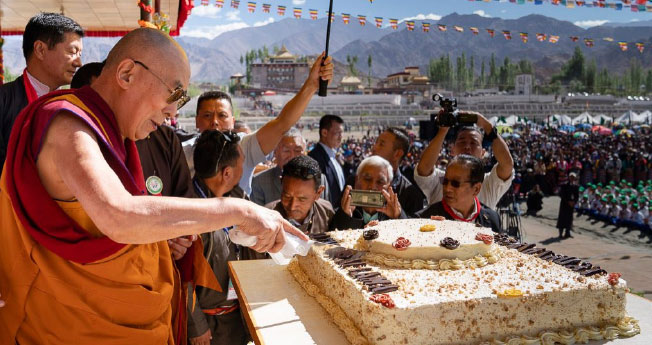 His Holiness the Dalai Lama cuts his birthday cake during a celebration in Ladakh. (Photo: Tenzin Choejor, OHHDL)
25,000 gather in Ladakh, India, to attend the Dalai Lama's birthday celebration
—
Tibetans, Ladakhis, and people from around the world gathered at the Shewatsel Teaching Pavilion in Ladakh, India, to wish the Dalai Lama a happy birthday and pray for his long life. A series of speakers, including Central Tibetan Administration President Lobsang Sangay, President of the Ladakh Buddhist Association Tsewang Thinles, and Ashraf Ali Barcha of the Shia Muslim organization Anjuman Imamia, greeted His Holiness and gave speeches.
In his remarks, the Dalai Lama thanked those in attendance and spoke about his commitments to religious harmony and Tibet, saying: "The cause of the Tibetan people is a just and worthy cause. As well as a responsibility towards the people of the Land of Snow, I feel bound to work to preserve the culture and language of Tibet."
---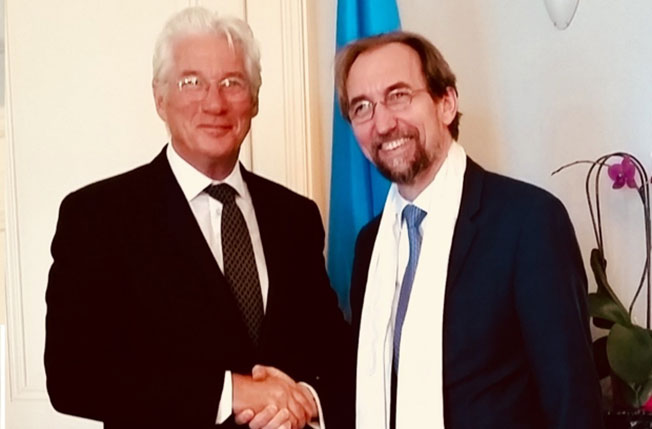 ICT Board Chairman Richard Gere with UN High Commissioner for Human Rights Zeid Al Hussein.
ICT President Matteo Mecacci raises Tibet with UN and EU officials
—
Matteo Mecacci and ICT Board Chairman Richard Gere met with UN High Commissioner for Human Rights Zeid Al Hussein in Geneva on June 26 and discussed the human rights situation inside Tibet. After that meeting, Matteo Mecacci went to Brussels to meet with the Austrian Permanent Representation to the EU, MEP Cristian Dan Preda, the Tibet Interest Group of the European Parliament, and others to present ideas and concrete recommendations for EU policy on Tibet.
Matteo Mecacci raised the issue of the deteriorating human rights situation in Tibet, the problem of access to Tibet for foreign observers, lack of reciprocity between the EU and China, and discussed how to increase international cooperation on Tibet, in particular between the US, the EU, and its Member States.
---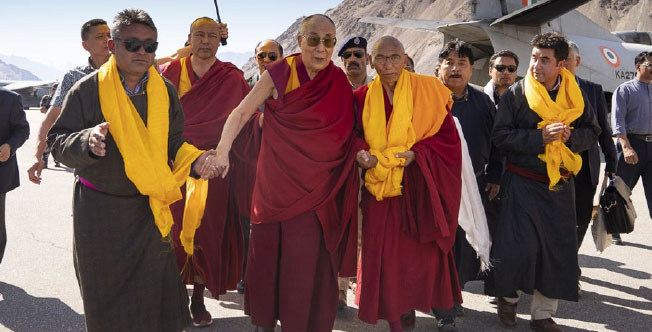 The Dalai Lama arrives in India's Nubra Valley on July 12, 2018. (Photo: Tenzin Choejor, OHHDL)
Nancy Pelosi and Jim McGovern: "Let the Dalai Lama go home"
—
Writing in a joint op-ed published this morning in the Boston Globe, Democratic Leader Nancy Pelosi and Representative Jim McGovern call on China to allow His Holiness the Dalai Lama to return to Tibet:
There is still time. It is not too late for China to choose a different path. Imagine the world's reaction if Chinese authorities were to affirm the right of the 14th Dalai Lama to return to his homeland if he so desires. Imagine if they were to afford His Holiness the respect he deserves as a man of peace. Imagine if through good-faith dialogue they sought to ease tensions, rather than implementing policies that exacerbate them. Imagine.
---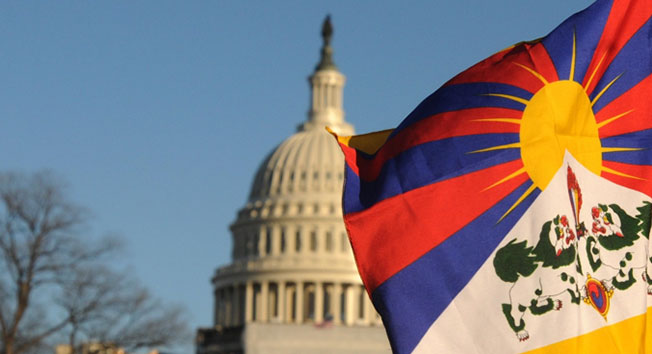 International Campaign for Tibet to launch Washington Internship Program for Tibetan Americans
—
On the occasion of the 83rd birthday of His Holiness the Dalai Lama, ICT announced the launch of the Washington Internship Program for Tibetan Americans. Through this program, ICT will assist young Tibetan Americans by providing information, placement, and stipends for internship opportunities in Federal offices Washington, DC. Those eligible will be placed in the offices of Members of Congress, as well other Federal entities.
Participating Tibetan Americans will gain exposure to the functioning of the American federal government, develop skills needed to excel in their career, unleash their natural leadership abilities, and learn directly from officials and staff who are responsible for the governance of this country.
Interested individuals can learn more from our website.
---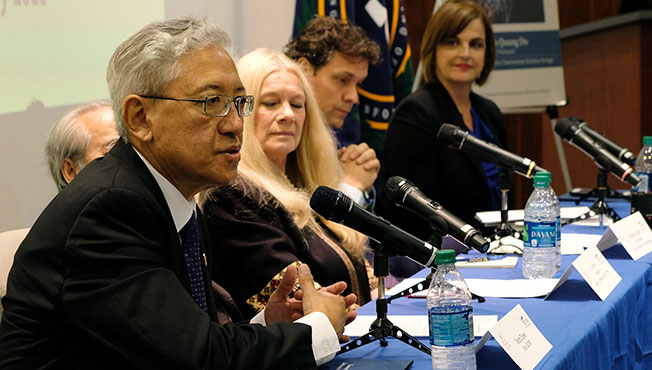 Tenzin Dorjee, chair of USCIRF, addresses the conference on religious freedom in Vietnam & Tibet. (Photo: Vietnam Committee on Human Rights)
Conference on Tibetan and Vietnamese Buddhism highlights need for cooperation to defend religious freedom
—
At a conference arranged by ICT and the Vietnam Committee on Human Rights to discuss freedom of religion in Tibet and Vietnam, Tenzin Dorjee, chair of the US Commission on International Religious Freedom, ran through a list of hardships imposed on the people of Tibet—from extensive surveillance by the Chinese government to restrictions on travel and the stationing of police officers in monasteries—then said that words alone were inadequate to address their plight.
"Simply noting injustice is not enough," Dorjee said. "We must encourage the US government and others to do more." Other panelists included Kristina Arriaga, vice chair of the US Commission on International Religious Freedom, Arjia Rinpoche, and ICT President Matteo Mecacci.
---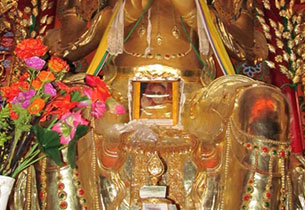 A framed portrait of the Dalai Lama in a monastery inside Tibet.
Tibetans inside Tibet defy Chinese restrictions to celebrate the Dalai Lama's birthday
—
"Tibetans living in the towns and cities drove into the grasslands and pastures to hold picnics," a local source told Radio Free Asia, referencing China's harsh treatment of those found celebrating the Dalai Lama's birthday.
Tibetans "try to make religious offerings, including offerings of prayers and incense, and eat vegetarian food, according to their individual wishes," a source in the Machu region told RFA.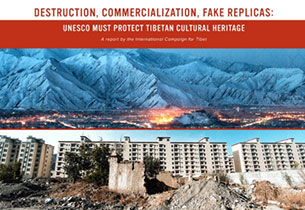 ICT submits report to UNESCO on 'destruction, commercialization, and fake replicas' in Lhasa
—
In a statement about the report, which was released ahead of a UNESCO World Heritage Committee meeting, ICT Vice President Bhuchung Tsering said: "UNESCO must be vigilant in enforcing the World Heritage Convention and take serious measures for the protection of Lhasa's remaining cultural heritage. UNESCO should require the Chinese government to adopt an authentic conservation approach in order for the remaining fragments of old Lhasa to be preserved."
---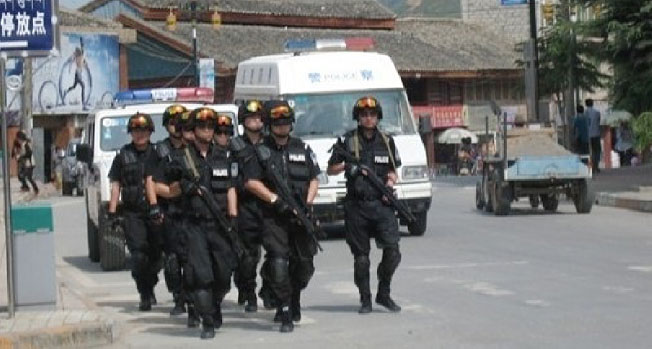 Heavily-armed Chinese police on patrol in Tibet.
China identifies new 'terrorist crimes,' strengthening legal stranglehold on Tibet
—
China has identified "new crimes of terrorism," in a further escalation of oppressive measures that are focused less on protecting China's citizens and more on the elimination of dissent and enforcement of compliance to Communist Party policies. These new guidelines represent a chilling expansion of intrusive measures in which merely sending a text message, involvement in someone's marriage, or wearing a slogan on a tee-shirt can constitute "extremist" activity or "terrorism". The Tibet issue is framed by Chinese authorities as a "security problem", despite the absence of violent incidents against civilians or the Chinese government.
BLOG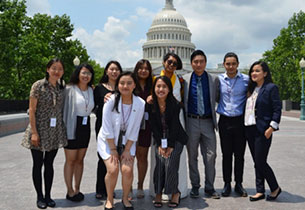 My Experience at the 2018 Tibetan Youth Leadership Program
By: Karma Choedak
—
If you are familiar with the Tibetan freedom movement, you probably also know the importance of continued support from the international community to check China's oppressive rule in Tibet. Be it China's worry about its image on the global stage or practical trade interest, various forms of support from the international community have been the main source of force for keeping Tibetan issue alive. Needless to say, the US congressional support played an instrumental role to show China that they cannot do whatever they want in Tibet.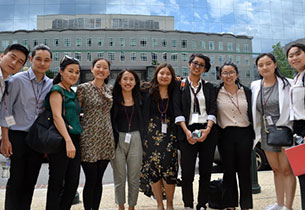 Tibetan Youth Leadership Program 2018: week of insights
By: Tenzin Tsedon
—
We would often sit facing one another in a fashion identical to conference rooms. Throughout the week of the program, we have sat in the same manner in varying locations under differing circumstances. There was a sense of intimacy in that seating arrangement, the comfort felt was an embodiment of a rooted connection that formed fast and firm amongst us. Although, we all carried starkly distinct assortment of life experiences, the ceaseless tug of a unique cultural identity on our hearts served as the undeniable, unifying factor for us.
SUPPORT ICT
Check Out ICT's New Tote Bag!
—
Visit ICT's online store and our redesigned tote bag. It features ICT's new logo in honor of our 30th anniversary and a quote from His Holiness the Dalai Lama. Get yours today!
---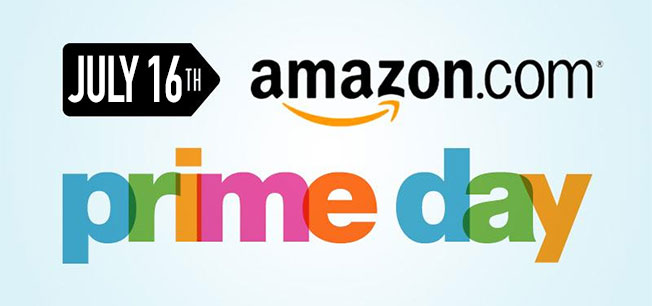 Support ICT While You Shop with AmazonSmile
—
Through the AmazonSmile Program, Amazon will make a donation for the value of .5% of your qualifying Amazon purchases to ICT! All you have to do is designate ICT as your charity of choice and be sure to use smile.amazon.com every time you shop with Amazon.
These small donations add up to significant funds for ICT and there is no cost to participate!