Tibet Update – March 29, 2019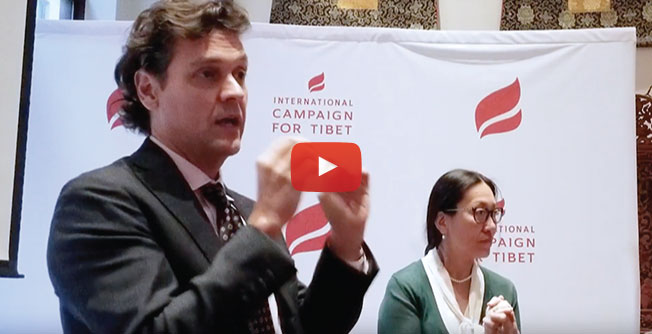 A video clip from Tibet Lobby Day 2019!
—
Watch this short clip of Matteo speaking to Tibet Lobby Day participants and making a special announcement!
---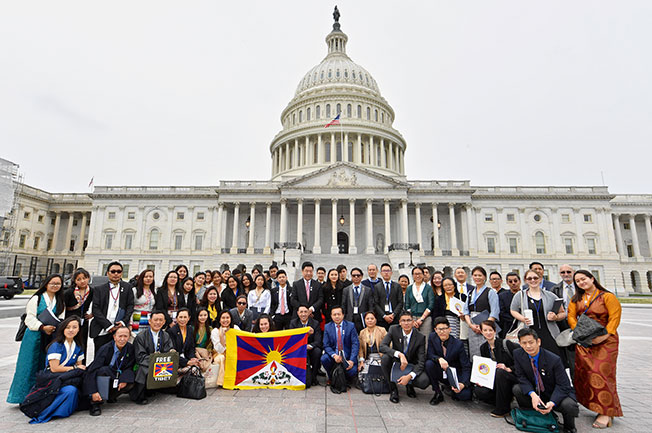 Momentum visible at Tibet Lobby Day 2019
—
If there's one thing Tibet Lobby Day 2019 showed, it's that there's new and undeniable momentum in the effort to bring human rights and democratic freedoms to Tibet.
After a year in which the most important Tibet-related legislation in more than 15 years was signed into law, nearly 150 Tibetan-Americans and Tibet supporters from 24 states came to Washington, DC to meet with members of Congress and their staff to request their support for programs and policies that help the Tibetan people. In addition, over 3,100 supporters submitted online messages to their representatives in Congress.
Thank you to all of our in-person and online participants- our voices were heard!
---
TIME: "The Dalai Lama Has Been the Face of Buddhism for 60 Years. China Wants to Change That"
—
TIME magazine's March 2019 edition features an interview with the Dalai Lama, and his portrait on the cover:
In his ninth decade and moving with the help of assistants, the Dalai Lama continues to explore human consciousness and question long-held shibboleths. During a series of lectures in February to mark the Tibetan new year, he pontificates on everything from artificial intelligence — it can never compete with the human mind, he says — to blind deference to religious dogma. "Buddha himself told us, 'Do not believe my teaching on faith, but rather through thorough investigation and experiment,'" he says. "So if some teaching goes against reason, we should not accept it."
---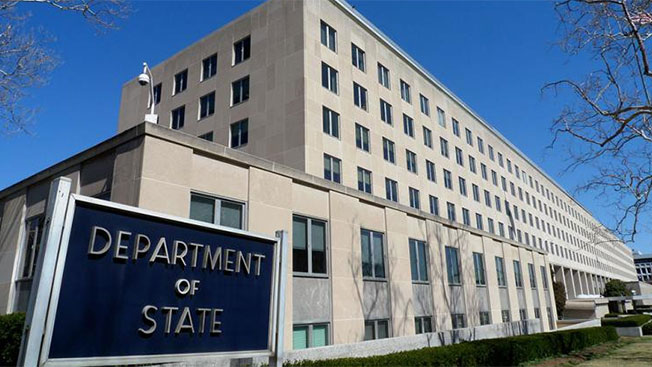 Reports by US and German governments condemn Chinese repression in Tibet
—
Tibetans face immense discrimination under Chinese rule, severe restrictions on their most basic rights and increasing isolation from the outside world, according to the US State Department's Human Rights Report for 2018. The report "documents substantial interference with the rights of peaceful assembly and freedom of association; severe restrictions of religious freedom; significant restrictions on freedom of movement; and restrictions on political participation" for the people of Tibet.
Another State Dept. report documents outrageous attempts by Chinese authorities to keep Americans out of Tibet in 2018, including repeatedly denying requests to visit from the US ambassador and other US officials, directly threatening to expel journalists and cruelly preventing Tibetan-Americans from seeing their homeland. Meanwhile, a rare Joint Statement by the Human Rights Committee of the German parliament called on the Chinese government to "immediately stop the repression of the Tibetan people and resume dialogue with the legitimate representatives of the Tibetans."
---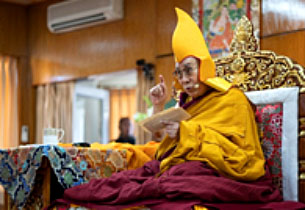 China's response to Dalai Lama reincarnation statements shows Beijing's lack of legitimacy
—
As the spiritual leader of Tibetan Buddhism, His Holiness the Dalai Lama is given sole authority by the ancient traditions of his faith to select the manner of his reincarnation.
But when His Holiness made this clear in a recent interview, a spokesman for the foreign ministry of China's atheist, authoritarian government claimed that the Dalai Lama's reincarnation must comply with Chinese law, specifically the "Regulations on Religious Affairs" and "Measures on the Management of the Reincarnation of Living Buddhas."
Not only do the Chinese government's claims completely disregard centuries-old Tibetan Buddhist religious tradition; they also obviously violate the universal principle of religious freedom.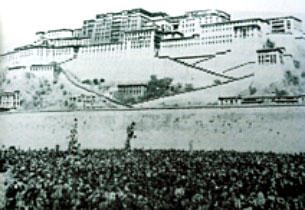 Honoring 60 years of nonviolent struggle by the Tibetan people to regain their rights
—
On March 10, 2019, His Holiness the Dalai Lama and the Tibetan people marked the 60th anniversary of the Tibetan National Uprising against Chinese rule, the escape of His Holiness and his eventual crossing over into India, and the re-establishment of the Tibetan governance system in exile. The Tibetan people also marked the 60th anniversary of the direct occupation and control of Tibet by China.
The International Campaign for Tibet would like to take this opportunity to honor the tenacity, courage and determination of the Tibetan people who, despite great challenges, continue to peacefully resist China's oppression and make great efforts and sacrifices to preserve and promote their identity, culture, language and traditions.
---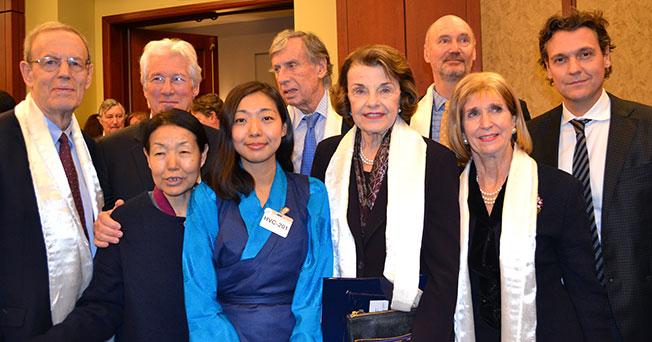 Congressional Leaders and former US president remember late ICT chairman on Capitol Hill
—
Lodi Gyari, the retired special envoy of His Holiness the Dalai Lama, senior official of the Central Tibetan Administration and executive chairman of the International Campaign for Tibet, passed away in San Francisco on Oct. 29, 2018.
A service in the Capitol Visitor Center on March 12, 2019 was attended by Lodi Gyari's beloved wife, Dawa Chokyi Gyari, his daughter Tenzing Tsering Gyari, brother Dorjee Gyari, and other members of the family.
Leaders of politics and activism spoke at the event, including Feinstein, House Speaker Nancy Pelosi (D-Calif.), ICT Chairman Richard Gere, and former Special Coordinator for Tibetan Issues Paula Dobriansky—who shared a written message for Gyari's widow from former President George W. Bush.
---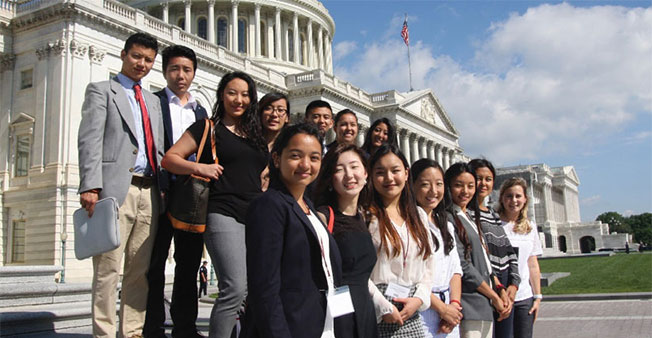 Applications for TYLP 2019 are due by April 7!
—
The Tibetan Youth Leadership Program (TYLP) is a unique week-long leadership development program organized by the International Campaign for Tibet in Washington, DC for Tibetan-American college students. It will be held from Saturday, June 1 to Saturday, June 8, 2019.
TYLP is designed to motivate and train young Tibetans to become effective leaders within the Tibetan community by providing meaningful exposure to the US political process and the discourse around foreign policy in the American capital. Through workshops, discussions and hands-on activities, participants will develop and sharpen their leadership skills.
Want to apply or know someone who might be a good fit? For more information or to download the application visit https://www.https://savetibet.org/tylp-2019/. Applications are due by April 7!
---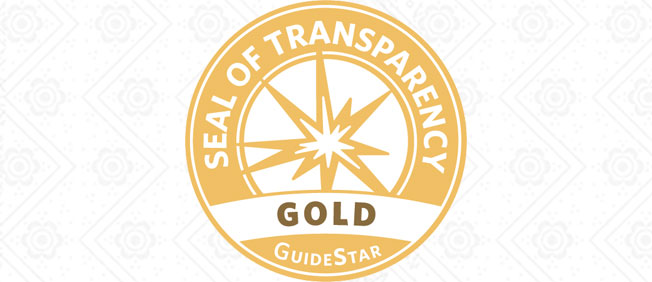 ICT Receives a Gold Seal of Transparency from Guide Star
—
We're proud to share that ICT has earned a 2019 Gold Seal of Transparency from Guide Star, the world's largest source of information on nonprofit organizations! By adding information about our goals, strategies, capabilities, and vision, we are shining a spotlight on the difference we help make in the world.
---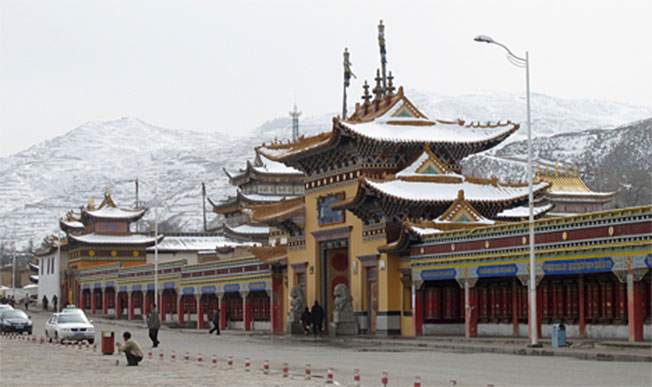 Chinese security remains constant at Tibet's Rongwo monastery
—
Although the anniversaries of Tibetan uprisings against Chinese rule in 1959 and 2008 have passed, local sources told Radio Free Asia that Chinese security remains deeply intrusive at Rongwo monastery in northern Tibet:
"Three police vehicles are parked in front of the monastery, with armed police manning the entrance. They have installed surveillance cameras along the streets of the monastery and within its halls. They can closely monitor the monks and any movement of people. The Chinese want to try to thwart any potential incidents, they are ready to spring into action at the sign of any protest… Police are randomly checking travelers on the roads and those from outside the region are thoroughly inspected and have their photos taken."
BLOG

A herd of yak covered in snow in Dzatoe.

2019 Severe Snow Disaster in Dzatoe, Tibet
By: Rinchen T.
—
In the past three months, there have been multiple heavy snowfalls in Yulshul Prefecture. Among its six counties, Dzatoe, Dritoe, Chumarlep and Tridu counties have been affected badly by the consecutive snowstorms. Dzatoe County is the most severely affected county from all Tibetan areas in this winter.
Affected grazing lands are covered by 8 inches and more of icy snow, which has put livestock and wildlife in a difficult situation for a prolonged time. As a result, not only have a large number of yaks and sheep died, but also a large number of wild animals, including blue sheep, white lipped deer, Tibetan gazelles, wild yaks, and several species of birds such as Tibetan snow cock starved to death. The situation there has been getting worse.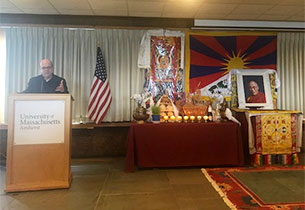 Congressman Jim McGovern addressing the gathering at the event at UMass, Amherst.

Tibet is a local issue not only in Tibet, but also in Amherst, Massachusetts
By: Bhuchung K. Tsering
—
On February 23, 2019, I was at UMass Amherst to participate in an event to thank Representative Jim McGovern on the successful passage of the Reciprocal Access to Tibet Act (RATA). Acknowledging the International Campaign for Tibet's close involvement at all stages in the legislative process on RATA, we were invited to speak at the event that saw Tibetan Americans and Tibet supporters not just from UMass, but also from Amherst and neighboring areas as well as from Boston and Connecticut.
The event was a meaningful one. In addition to Congressman McGovern, there was a State Representative as well as officials from Amherst Town Council, which indicates that there is good interest at the local level in the issue of Tibet and Tibetan Americans.
EVENT

Tibetan Film The Sweet Requiem to Premiere at the 2019 Indian Film Festival of Los Angeles
—
ICT is proud to support the Tibetan film The Sweet Requiem, playing on April 12 at Regal L.A. Live as part of the 2019 Indian Film Festival of Los Angeles! For information on this film, the full line-up and tickets, visit www.indianfilmfestival.org. Enter promo code IFFLA1920 for $2 off tickets! Seating is limited.
SUPPORT TIBET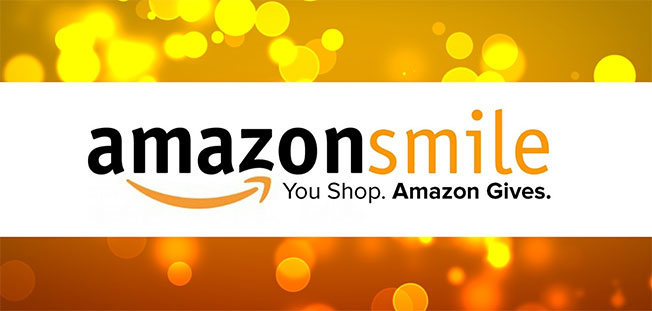 Support ICT While You Shop with AmazonSmile
—
Through the AmazonSmile Program, Amazon will make a donation for the value of .5% of your qualifying Amazon purchases to ICT! All you have to do is designate ICT as your charity of choice and be sure to use smile.amazon.com every time you shop with Amazon.
These small donations add up to significant funds for ICT and there is no cost to participate!