Tibet Update – November 9, 2018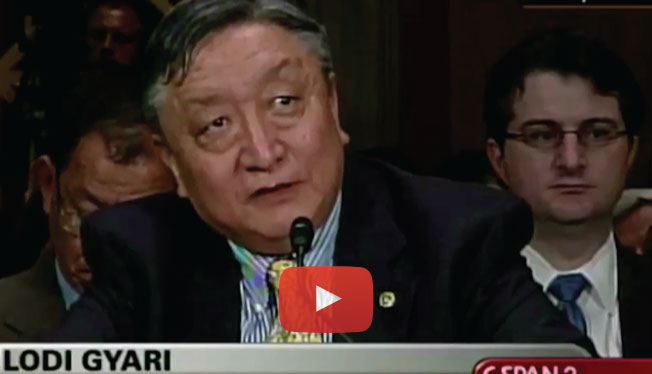 Wise words from Lodi Gyari on the importance of nonviolence
—
As we mourn the loss of Lodi Gyaltsen Gyari, who died Oct. 29, 2018, we are sharing this powerful video in which Mr. Gyari explains the significance of the deeply personal nature of the non-violent Tibetan struggle.
---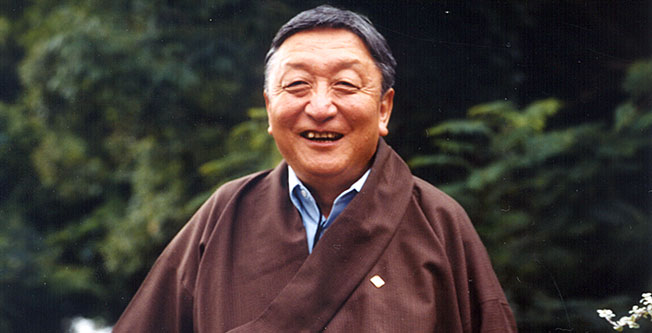 Lodi Gyari, 1949-2018: A lifetime of service to the Dalai Lama and Tibet
—
We are deeply saddened by the passing of Lodi Gyaltsen Gyari and wishes to express our condolences to his family and all those who knew him. Mr. Gyari, the retired Special Envoy of His Holiness the Dalai Lama, senior official of the Central Tibetan Administration, and Executive Chairman of the International Campaign for Tibet, passed away on October 29, 2018.
Mr. Gyari was a seasoned and skilled diplomat who spent the majority of his professional career working directly for and on behalf of His Holiness the Dalai Lama. He was an impassioned advocate for the Tibetan people, universal human rights and global democratic reform.
Richard Gere, Chairman of the Board of the International Campaign for Tibet said: "Lodi was my dear friend and partner and mentor for over thirty years. He created a life of great meaning and sacrifice that will resonate for many generations- throughout the Tibetan and non-Tibetan world. He was extraordinary."
---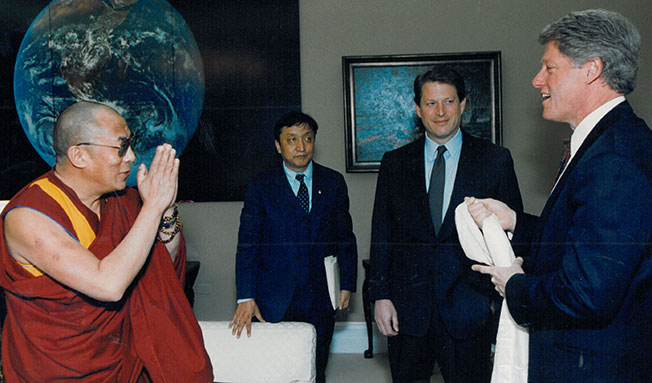 Washington Post: "Lodi Gyari, Dalai Lama's emissary and a tireless advocate for Tibet, dies at 69"
—
"Born in a tent surrounded by snowcapped mountains, Mr. Gyari (pronounced "Gary") was descended from a long line of chieftains and resistance fighters, including his grandmother and an aunt who raised him. He was considered a reincarnated lama in the Buddhist religion and, as a child, helped guide his family out of their homeland after China seized control of Tibet in the 1950s.
He and his family fled to northern India, where many Tibetans formed an exile community in Dharamsala, under the spiritual guidance of the Dalai Lama. Mr. Gyari, who studied in monasteries in Tibet and India, was drawn from an early age — like his ancestors — to the cause of Tibetan freedom."
Continue reading the Washington Post obituary here.
---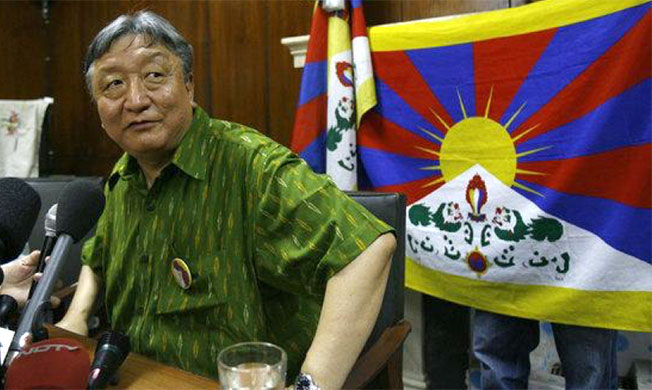 New York Times: Lodi Gyari, Top Envoy for the Dalai Lama, Dies at 69
—
Lodi Gyaltsen Gyari, who as a top envoy for the Dalai Lama, the exiled Tibetan spiritual leader, helped promote their homeland's cause abroad and negotiated unsuccessfully for decades with Chinese officials, died on Monday in San Francisco. He was 69.
The cause was liver cancer, according to the International Campaign for Tibet, a Washington-based advocacy group he once led.
Mr. Gyari was the lead negotiator in nine rounds of talks with Chinese officials over the status of Tibet, the vast region that the People's Liberation Army invaded in 1951 and that the Dalai Lama fled, for India, eight years later.
Continue reading the New York Times obituary here.
---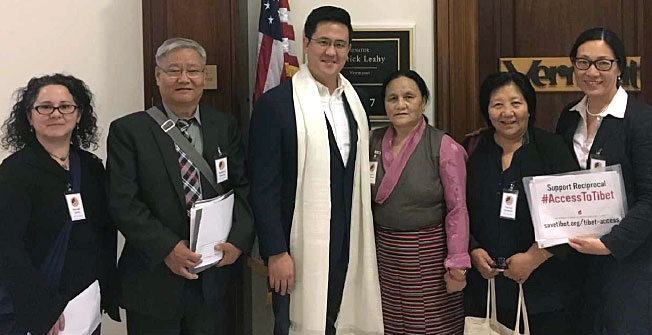 Supporters of reciprocal access to Tibet lobby Senate offices
—
United States Senate offices on Capitol Hill and across the country were buzzing on October 17 as supporters of the Reciprocal Access to Tibet Act came out en masse to lobby for the bill.
The special Lobby Day brought together ICT members, Tibetan associations, and other activists who urged their Senators to pass the Reciprocal Access to Tibet Act.
"The Reciprocal Access to Tibet Act is one of the most important pieces of legislation in the history of the Tibetan-American community, so it was vital to share our support for the bill with our elected leaders," ICT Vice President Bhuchung K. Tsering said. "We are grateful to Senators and Senate staff across the country for meeting with our members and to everyone who showed up with pride and enthusiasm on Wednesday to lobby for the bill."
Help get this Act across the finish line!
Click here to urge your Senators to pass the Reciprocal Access to Tibet Act!
---

Chinese authorities cancel prayer festival at famous Tibetan Buddhist institute
—
Chinese officials canceled the prayer festival of Dechen Shedrub at the famous Larung Gar institute in eastern Tibet, according to an official notice stating that there would be no more large religious gatherings held there. Religious teachings at Larung Gar, the world's largest center of Tibetan Buddhist study and ethics, used to attract thousands of Chinese and Tibetan devotees as well as visitors from all over the world.
Security has been tightened at the Buddhist institute, and there is continuing distress among monks and nuns in the aftermath of a wave of housing demolitions and the expulsion of thousands of monks and nuns.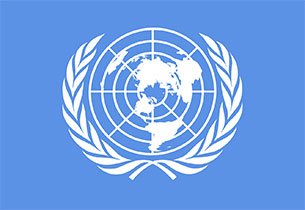 China's false denials at UN human rights council must be challenged, ICT says
—
A number of countries, including the United States, the United Kingdom, Germany, France and Australia, raised specific worries about Tibet during China's recent Universal Periodic Review. They called for religious freedom, unhindered access by foreign citizens and human rights observers and the release of language advocate Tashi Wangchuk, who was sentenced to five years in jail after he appeared in a New York Times video.
"The International Campaign for Tibet is deeply concerned by the responses of the Chinese government during today's UN hearing," said Kai Mueller, head of ICT's UN advocacy team and executive director of ICT Germany. "It should be clear to everyone that this was not just about the rights of Tibetans, Uyghurs or Chinese human rights defenders, but also about promoting to the world the Chinese system, which quite obviously discards human rights and the rule of law."
SUPPORT ICT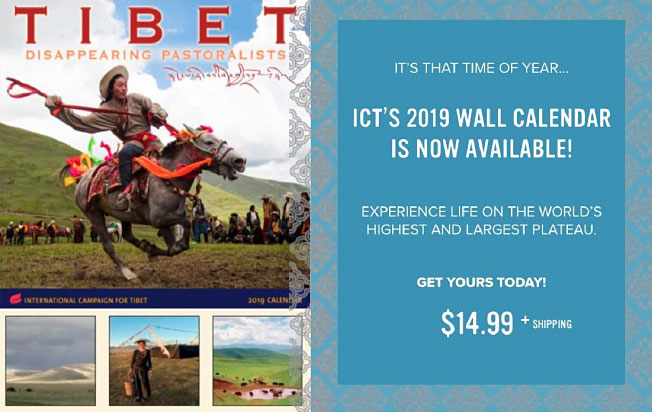 ICT's 2019 Calendar is Hot Off the Presses!
—
Experience life on the world's highest and largest plateau with the Disappearing Pastoralists wall calendar. For centuries Tibetan nomads have lived a balanced way of life while protecting this vast landscape and its wildlife, ecosystem, and water resources. But this peaceful existence is endangered, primarily due to China's policies that are devastating the land and its people. These extraordinary images capture the heart of this vibrant culture and remind of our connection to the earth and our responsibility to care for it.
ICT's annual wall calendar often sells out, so pick one up today!
---

Support ICT While You Shop with AmazonSmile
—
Through the AmazonSmile Program, Amazon will make a donation for the value of .5% of your qualifying Amazon purchases to ICT! All you have to do is designate ICT as your charity of choice and be sure to use smile.amazon.com every time you shop with Amazon.
These small donations add up to significant funds for ICT and there is no cost to participate!