Tibet Update – October 25, 2019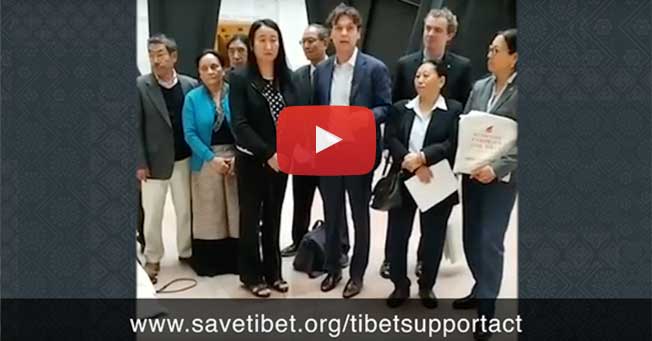 Check out the scene from Mini-Lobby Day!
—
n case you missed it on Facebook Live, check out this short video of Matteo Mecacci and the Mini-Lobby Day team in action on Capitol Hill! You can also read more about the day in the story below.
---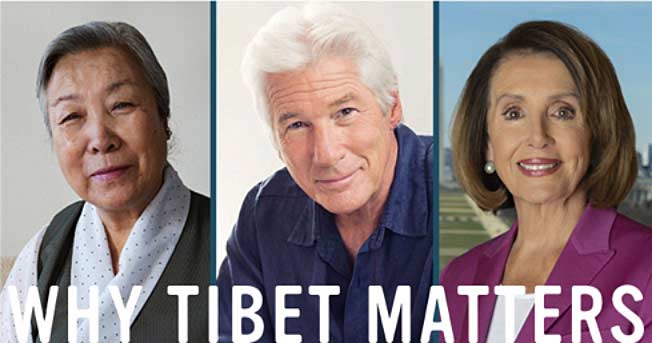 Join ICT for a very special event in San Francisco: Speaker Nancy Pelosi & Jetsun Pema in conversation with Richard Gere
—
If you are going to be in the San Francisco area on Friday, November 8, please join us for a very special event: Why Tibet Matters: The Relevance of Now and Why We Should Care.
ICT Chairman Richard Gere will discuss this and more with two extraordinary leaders who have dedicated their lives to serving others. Together in conversation for the first time, we will hear how women from vastly different backgrounds used their power to advocate for the rights and protections of the powerless and why what is happening in Tibet today matters.
Speaker Nancy Pelosi
Jetsun Pema, Sister of His Holiness the Dalai Lama, initiator and prime mover of the Tibetan Children's Village school system
Tickets are available now!
https://why-tibet-matters.eventbrite.com/
---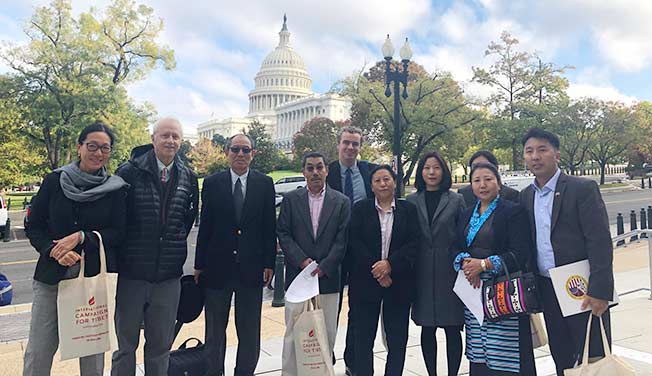 Tibetan Americans make mini-Lobby Day a national success
—
The International Campaign for Tibet's mini-Lobby Day for the Tibetan Policy and Support Act this week was a nationwide success, thanks to the hard work of Tibetan Americans, Tibet supporters and ICT members around the country.
From Capitol Hill in Washington, DC to legislators' local offices across the US, Tibet supporters came out in force on Monday and Tuesday, Oct. 21 and 22, 2019, to build support for the new legislation, which would comprehensively upgrade US support for Tibet.
Special thanks to all of you who took action by contacting your representatives through our online petition- together we sent over 11,200 messages!
---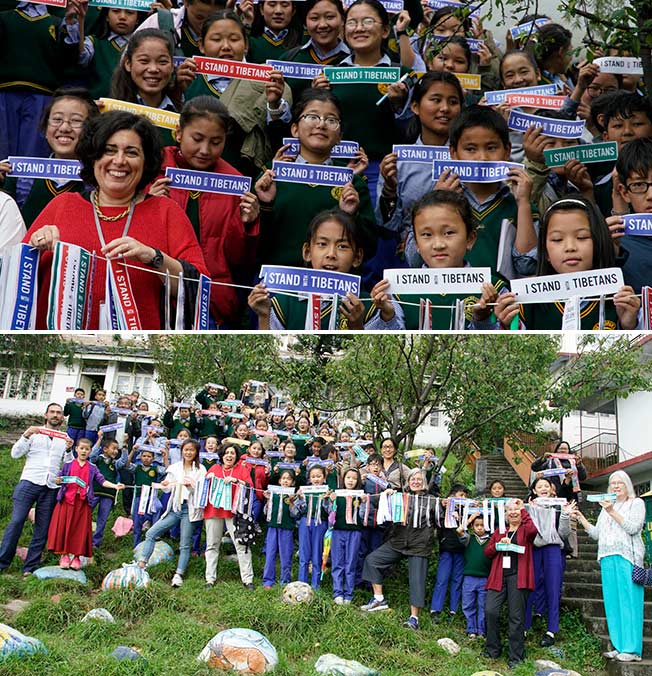 "I Stand With Tibetans" Ribbons From ICT Members Delivered to Dharamsala
—
Just weeks ago, over five thousand ribbons expressing solidarity with Tibetans—signed by ICT members—were hand-delivered by our team to Tibetans-in-exile living in Dharamsala, India.
Every year on this trip, the show of support from members like you for the Tibetan cause brings joy to Dharamsala. All the Tibetans we met with this year are so grateful for your compassion in action. If you want to show your solidarity now, make a donation in support of Tibetans' empowerment and human rights today!
---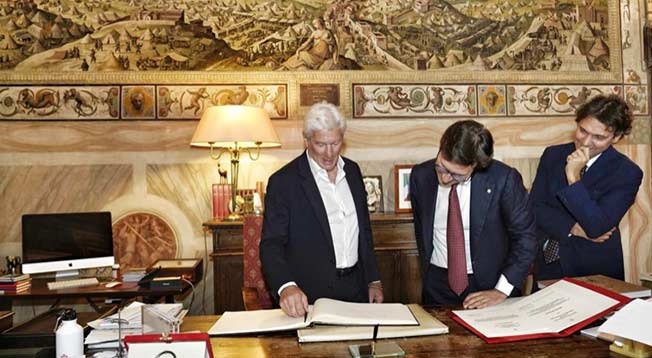 Richard Gere receives the Keys to Florence
—
Earlier this month ICT Chairman Richard Gere was awarded the prestigious Keys to the City of Florence by Mayor Dario Nardella in recognition of his lifelong commitment in defense of human rights and freedom of speech and of religion. ICT President Matteo Mecacci, a Florence native, was there too!
To see more pictures, check out our Facebook post!
---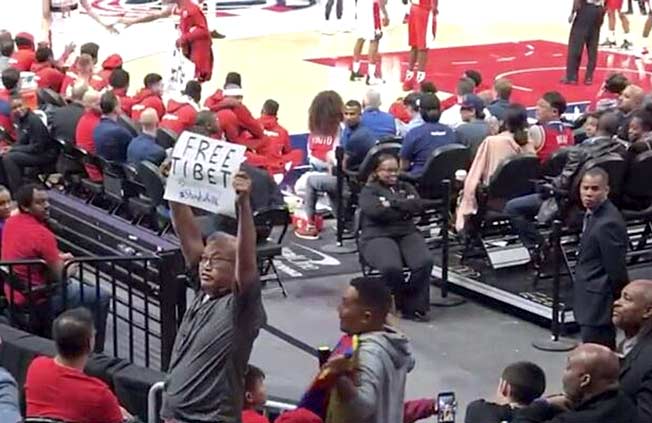 Protestors draw attention to Tibet at NBA game
—
"I had to use this opportunity to shine a spotlight on Tibet's plight," said a Tibetan American protestor after he and a friend were ejected from a Washington Wizards game against the Guangzhou Loong Lions.
During the game in Washington, DC, Tenzing Barshee, a Tibetan American from Virginia, held up a sign saying "Free Tibet," while his friend held the Tibetan flag. Barshee and his friend were eventually escorted out of the stands.
---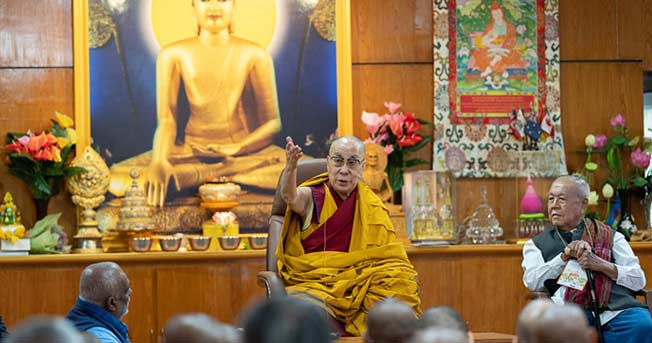 Dalai Lama meets with members of the International Network of Engaged Buddhists
—
Thai activist Sulak Sivaraksa led a group of more than 100 members of the Network to Dharamsala, India, to meet with the Dalai Lama earlier this month:
"As human beings, we all want to live a happy life, but we are regularly faced with problems of our own making… Different points of view appeal to people of different dispositions, but what is most important to remember is that all religious traditions stress the importance of cultivating loving-kindness."
---
Communist China turns 70 but still lacks legitimacy in Tibet
—
As part of the 70th anniversary of its founding on October 1, the People's Republic of China (PRC) is touting "70 years of progress" in Tibet. However, the truth is that it has been 70 years of subjugation and oppression for the Tibetan people, and after all that, China still lacks legitimacy in its rule over Tibet.
The International Campaign for Tibet's message to the PRC on its 70th anniversary is this: The Dalai Lama is the solution and not the problem for Tibet.
---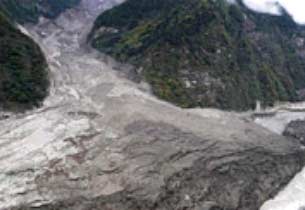 Despite damning UN climate report, China refuses to make changes in Tibet
—
China's leader Xi Jinping seeks to present the People's Republic of China (PRC) as an "ecological civilization" with Tibet as a key element. But China's policies on the Tibetan Plateau are exacerbating the environmental impacts detailed in the latest United Nations Intergovernmental Panel on Climate Change report.
For example, despite a looming water crisis, China is proceeding with a massive expansion of hydro dams and power grids on the rivers of Tibet.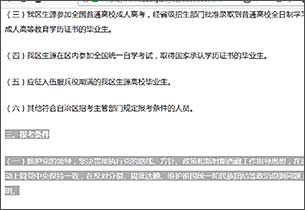 China forces Tibetan college grads to criticize Dalai Lama to get public jobs
—
New job postings reveal that Chinese authorities are requiring college graduates from the Tibet Autonomous Region who apply for jobs in public institutions to "expose and criticize the Dalai Lama" and "have clear and firm political principles."
"Official recruitment announcements by the Chinese authorities symbolize the additional systematic discrimination imposed on Tibetans living under Chinese rule. Being forced to denounce the Dalai Lama – a Nobel Peace Laureate who for Tibetans is a source of pride and great inspiration – to get a job, is an unnecessary humiliation," said ICT President Matteo Mecacci.
---
United States Institute of Peace begins fourth dialogue with Dalai Lama
—
USIP's latest dialogue with the Dalai Lama focused on tackling conflict with compassion, according to a posting by the Central Tibetan Administration:
Pressing the youth and thought leaders, His Holiness asserted that all 7 billion human beings must learn to coexist harmoniously above the secondary differences of nationalities, religion, and race among others.
"Patience and forgiveness are what you must have to practice when dealing with hate and criticisms," said His Holiness before he went on to answer the questions from the young delegates.
BLOG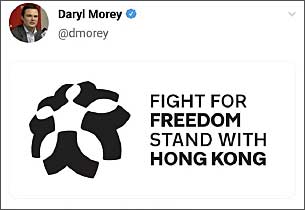 China gives the game away
By: Ashwin Verghese
—
In the polarized age in which we live, American sports fans are often forced to confront whether we can separate our favorite pastimes from their surrounding social and political context. But after seeing all hell break loose over an NBA executive's mundane tweet about Hong Kong, we should be asking ourselves whether we can still detach sports—or any part of our shared public life—from the tentacles of China's asphyxiating censors.
Gandhi and Tibet
By: Ashwin Verghese
—
"As I stood there I wondered what wise counsel the Mahatma would have given me if he had been alive. I felt sure he would have thrown all his strength of will and character into a peaceful campaign for the freedom of the people of Tibet."
—The Dalai Lama in his autobiography "My Land and My People," on his visit to Gandhi's cremation site in 1956
Today, Oct. 2, 2019, the world marks 150 years since Mahatma Gandhi was born. But for those of us in the Tibet movement, it's perhaps more important to remember when he died.
EVENT


Living Compassion II: The Dalai Lama's Life Story in Music, Words and Images
—
Discover the inspirational journey of the Dalai Lama's escape from Tibet as a young monk who then grew into fulfilling his destiny to lead all the world to find, explore, and embrace a compassionate way of life.
This robust multimedia presentation includes breathtaking images revealing the Dalai Lama's life in stunning visuals, woven together with a deeply and highly personal heartfelt narration by ICT's own Tencho Gyatso, niece of the Dalai Lama, and uplifting music by Grammy Nominee, Nawang Khechog, along with Arthur Lipner and Janet Ettele.
When:
Sunday, November 3, 2019
Free pre-event round table | 4:30-5:30pm
VIP reception | 5:30pm
Main program begins | 7:00pm
Location:
The Ridgefield Playhouse
80 East Ridge
Ridgefield, CT 06877
SUPPORT TIBET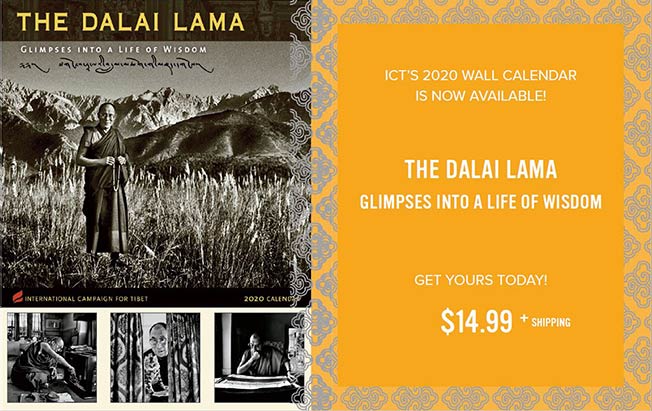 ICT's 2020 Wall Calendar is hot off the presses!
—
The latest edition of ICT's annual wall calendar, The Dalai Lama: Glimpses into a Life of Wisdom, features 12 photographs of His Holiness the Dalai Lama by the renowned Indian photographer Raghu Rai, who has closely followed His Holiness' life. Today His Holiness, who has retired from his Tibetan political leadership, devotes himself to promoting human values and religious harmony everywhere while continuing to draw attention to the rich Tibetan Buddhist cultural heritage, which he feels has much to contribute to the development of world civilization. This calendar is a tribute to the Dalai Lama by the International Campaign for Tibet.
ICT's annual wall calendar often sells out, so pick one up today! Also makes a great gift!
---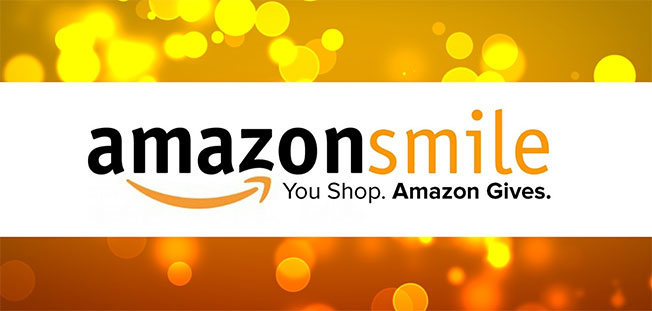 Support ICT While You Shop with AmazonSmile
—
Through the AmazonSmile Program, Amazon will make a donation for the value of .5 percent of your qualifying Amazon purchases to ICT! All you have to do is designate ICT as your charity of choice and be sure to use smile.amazon.com every time you shop with Amazon.
These small donations add up to significant funds for ICT and there is no cost to participate!