Tibet Update – September 27, 2019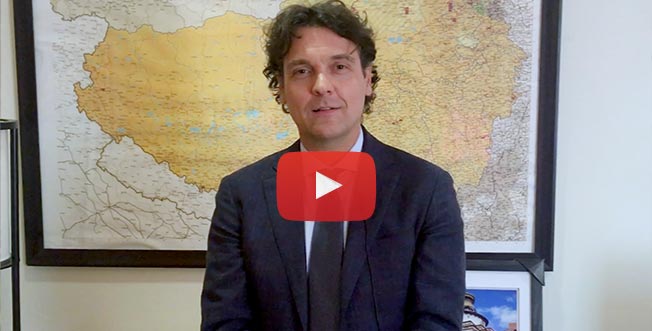 New Tibet Legislation Introduced in Congress
—
In this video update, ICT President Matteo Mecacci shares breaking news: the introduction of the groundbreaking Tibetan Policy and Support Act of 2019 in both the House and Senate of the US Congress. This is big!
---
New bill will sanction Chinese officials for interfering in the Dalai Lama's reincarnation
—
A bill that will upgrade US support for Tibet and penalize Chinese officials for interfering in Tibetan religious practices to appoint the next Dalai Lama has now been introduced in both chambers of Congress. The bipartisan Tibetan Policy and Support Act was introduced in the Senate by Sen. Marco Rubio and in the House by Rep. James McGovern.
Among other things, the new bill will sanction Chinese officials for trying to interfere in the Dalai Lama's succession and will prevent China from opening a new consulate in the US until a US consulate is allowed in Lhasa.
---
Take action now- Ask your elected representatives in Washington to cosponsor the Tibetan Policy and Support Act!
—
Raise your voice to call for the passage of the Tibetan Policy and Support Act of 2019! Sign this PETITION FOR ACTION, and we'll send your request to your elected representatives in Congress. It's a quick and effective way to speak up for the people of Tibet—and for human rights and democratic freedoms across the globe.
---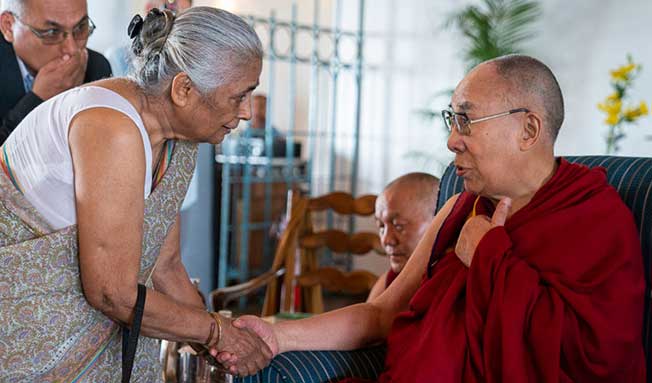 The Dalai Lama delivers message of peace to gathering of academics, intellectuals and diplomats
—
Speaking in New Delhi earlier this month, the Dalai Lama called for a world with greater compassion:
"Before they go to school, children are open and friendly to each other. They don't care what religion or nationality their companions belong to, so long as they play together in a friendly way. Once they start school, however, they learn to pay more attention to secondary differences, such as religion, color, economic background…To counter this kind of discrimination, this sense of 'us' and 'them,' we need to cultivate a sense of oneness of 7 billion human beings."
---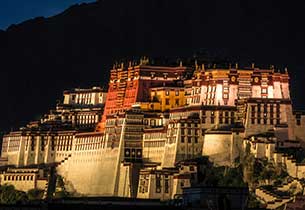 China steps up discredited attempts to control Dalai Lama's succession
—
Signaling an intent to exclude the Dalai Lama from playing any role in his own succession, last month a senior Chinese official stated that Tibet's reincarnation system is "never a religious-only issue or a living Buddha's personal right" but "an important representation of the Communist Party of China's strategies." Delivered in a major training on reincarnation, this statement is a blunt warning to Tibetan Buddhists.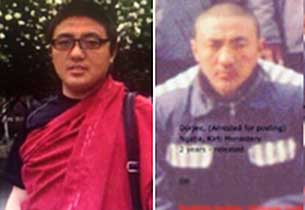 Monk sentenced to 3 years in prison, possibly for contacting people outside Tibet
—
A Tibetan monk from Kirti Monastery was sentenced to three years in prison this week after being held incommunicado in detention for more than one year. Lobsang Dorje, aged about 36, was sentenced on Sept. 3 after being arrested in his room in mid-July 2018. According to Lobsang Yeshe and Kanyag Tsering, two Kirti monks living in exile in India, it is not known why Lobsang Dorje was imprisoned, although they have heard it may be linked to his contacts with people outside Tibet.
---
Tibetan political prisoners and religious freedom highlighted at the UN
—
In statements delivered on behalf of the Helsinki Foundation for Human Rights, ICT's Kai Mueller and Christa Meindersma drew attention to the worsening situation at the Tibetan Buddhist institution of Yachen Gar and the cases of nine Tibetans who were sentenced to prison for celebrating the Dalai Lama's birthday:
The United Nations is one of the few places Tibetans have a voice and an opportunity to challenge China on their sustained mistreatment of Tibetans; Tibetans inside understand this. Although the risks for Tibetans reporting on their lives has significantly increased, we continue to receive information on human rights abuses. Tibetans remain determined to report on injustices and we must continue to hold China accountable at the Human Rights Council.
---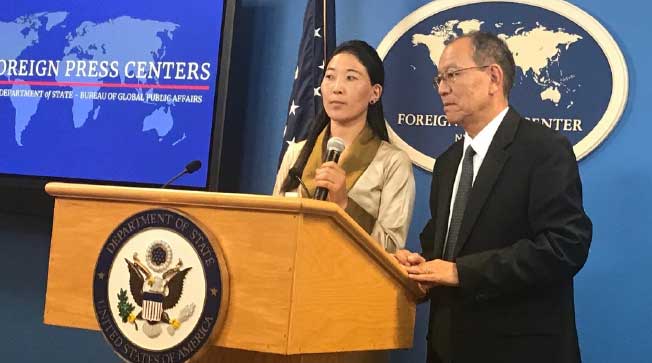 Nyima Lhamo calls for united action on religious freedom; highlights Tibetans' call for the Dalai Lama's return to Tibet
—
President Trump heard directly from a Tibetan about the need for US support during the second Ministerial to Advance Religious Freedom when Nyima Lhamo, niece of Tenzin Delek Rinpoche, delivered her message to President Trump in the White House. "Tibetan need America's support, please. We need support," she said, and asked for US support for the Dalai Lama to return to Tibet.
Nyima Lhamo also touched on the case of the Panchen Lama during her presentation at the Ministerial, saying that if anything happens to him or other political prisoners in Tibet, the Chinese government should be held solely responsible. Vice President Pence and House Speaker Nancy Pelosi also spoke about the plight of the Tibetan people in their remarks.
BLOG & EVENT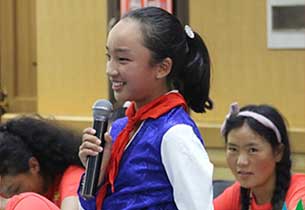 Tibetan nomad children forced to promote Communist Party's "three loves" after Beijing tour
By: Rinchen Tashi
—
As a new school year gets underway in Tibet, a group of nomadic students have been forced to spread Chinese propaganda urging Tibetans to love the Communist Party, love China and love Chinese socialism.
Nearly 60 students and teachers from the Gedrong Nomadic Tribes in Kham, eastern Tibet (in what China calls Dzatoe County, Yulshul Tibetan Autonomous Prefecture) were taken to Beijing for a 10-day educational tour last month as part of the Chinese regime's "Educational Activities with the Theme of Three Loves."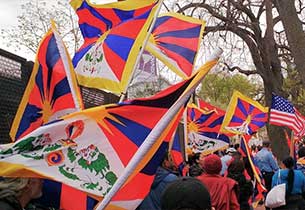 Join us for a Human Chain Rally at the Chinese Embassy
—
When & Where:
Sunday, Sept. 29 | 2-4pm
The Chinese Embassy
3505 International Place NW
Washington, DC 20008
—
On Oct. 1, 2019, the Chinese Communist Party will hold an unprecedented grand military parade in Beijing to celebrate the 70th anniversary of Communist Party rule, showing off its military muscle to the world. Human rights organizations in Washington, DC plan to jointly hold a human chain rally to encircle the Chinese Embassy to protest against 70 years of Communist Party rule in China and to support freedom in Hong Kong, Tibet and East Turkestan.
If you have the time, please come and participate in this event!
SUPPORT TIBET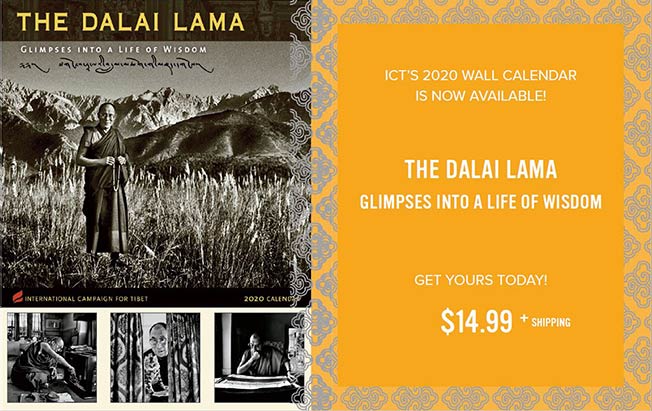 ICT's 2020 Wall Calendar is hot off the presses!
—
The latest edition of ICT's annual wall calendar, The Dalai Lama: Glimpses into a Life of Wisdom, features 12 photographs of His Holiness the Dalai Lama by the renowned Indian photographer Raghu Rai, who has closely followed His Holiness' life. Today His Holiness, who has retired from his Tibetan political leadership, devotes himself to promoting human values and religious harmony everywhere while continuing to draw attention to the rich Tibetan Buddhist cultural heritage, which he feels has much to contribute to the development of world civilization. This calendar is a tribute to the Dalai Lama by the International Campaign for Tibet.
ICT's annual wall calendar often sells out, so pick one up today! Also makes a great gift!
---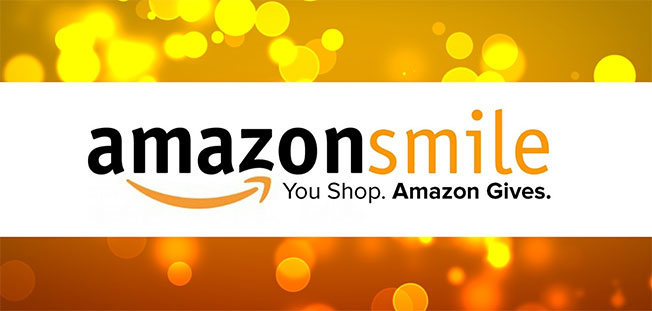 Support ICT While You Shop with AmazonSmile
—
Through the AmazonSmile Program, Amazon will make a donation for the value of .5 percent of your qualifying Amazon purchases to ICT! All you have to do is designate ICT as your charity of choice and be sure to use smile.amazon.com every time you shop with Amazon.
These small donations add up to significant funds for ICT and there is no cost to participate!